Often, early years education is all about routine, routine, routine! From meal times, to handwashing, to nappy changes and toilet breaks, group time, sleep time, etc etc etc! We at Kinderloop get it, and this is precisely how our activity chart feature came to be. Whether you need a staff checklist to ensure the OH&S stuff is signed off each morning, or you wish to document the daily sleep times – and regular checks – of the little ones in your care, this is the feature for you! So read-on…
Creating an Activity Chart
You create activity charts from the web login of Kinderloop. You start at the "Settings" cog, and then choose "Activity" from the left-hand menu (shown in pink below).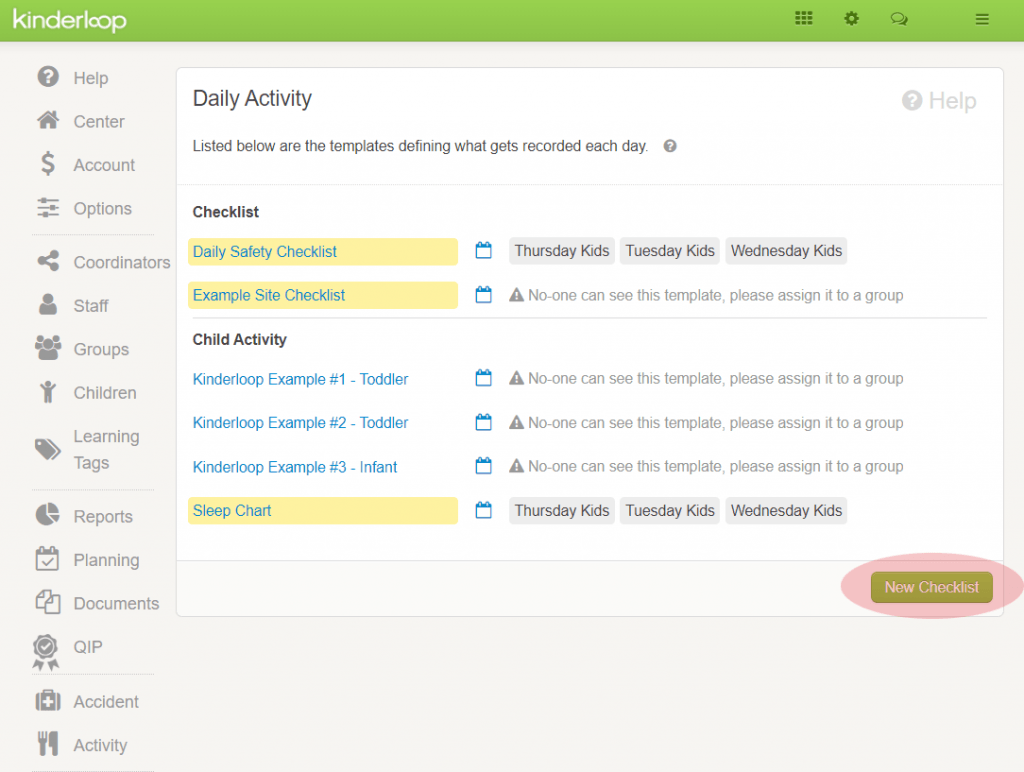 Kinderloop will then prompt you to select from three template types:

1/ Children: for charts that document such things as eat and sleep routines. You choose whether to combine them into one daily chart, or separate each chart, depending on the individual needs of your service.
2/ Staff: For anything that involves staff specifically, like staff sign-in, or staff compliance, like updating first aid & CPR. (Children cannot be linked).
3/ General: For everything else. The daily morning checklist, the evening checklist, cleaning checklist, etc, etc! (Children cannot be linked).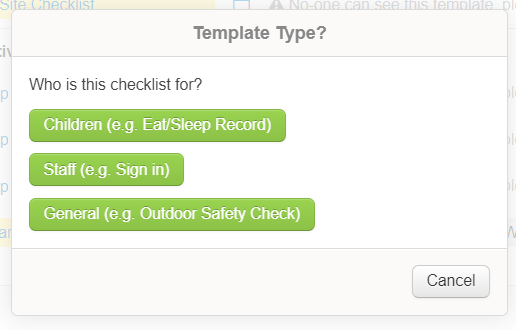 Worth Noting:
"Children" templates are private (for the Educator's records only). They remain highlighted in yellow to identify this. Alternately, you can choose to share them, by going into to template and selecting "share with family". Any linked family then get to view their child's activity. They cannot see the activity of other children.
Casual Children
Children attending on days outside their regular booked hours can easily be added to a Children template on any given day, within the web login. You then refresh the app for their name to appear in the daily list.
Designing
All activity chart templates have been designed – as with most things in Kinderloop – with flexibility in mind. We are aware that each centre or scheme will utilise a chart slightly differently, so a simple fill-out-the-boxes, and drag-and-drop method has been designed for you to create the bespoke chart you need. They can be altered and edited as often as you wish. Below is an example of a "Children" template, where you are encouraged to drag the components you need (eg/ checkboxes, time entries, ratings, and comments) into the chart, and make it unique to the needs of your centre.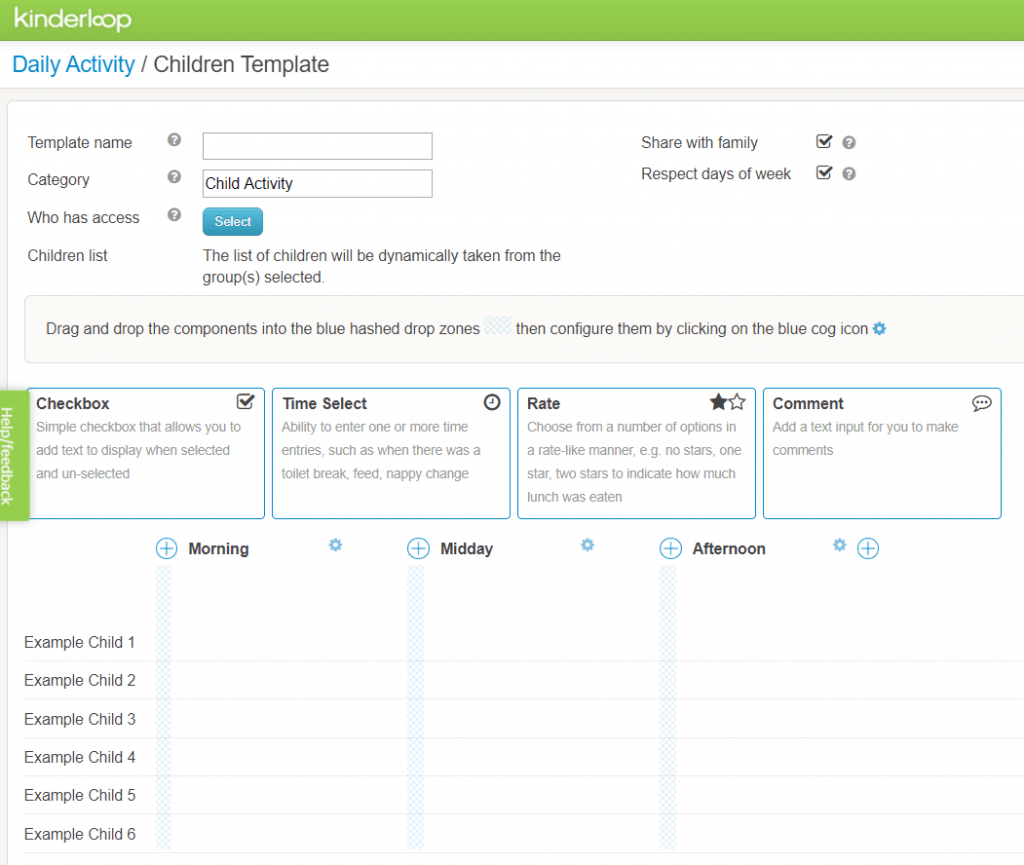 **IMPORTANT TIP!
For Activity charts to work – the essential step is to LINK them to the staff members and children (or groups of children) that they've been designed for. We often get requests for help by Educators that cannot access a particular chart, and the primary reason is usually because they have not been linked to that chart.
*In the above image, you use the "Who has access" button to link to the appropriate group or Educator/s.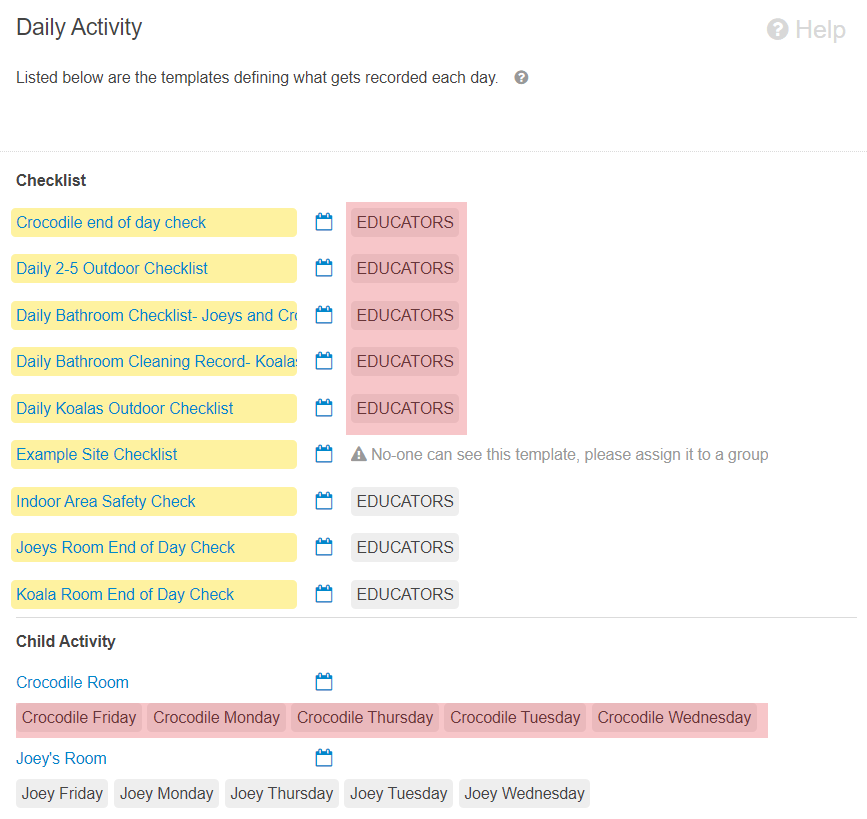 Dynamic Updating
There is a very sleek feature built in to the "children" activity templates which automatically filters children into a chart if they are designated as "attending" care on a particular day, or are checked as part of a particular group. This is done on an individual child basis from the web login. Go to the "settings" cog, followed by "Children" in the menu down the left-hand side. From here you can select each child individually, and specify the days they attend, and the groups they should be included in. This way, the next time you use a particular template, you'll find those children specified are included.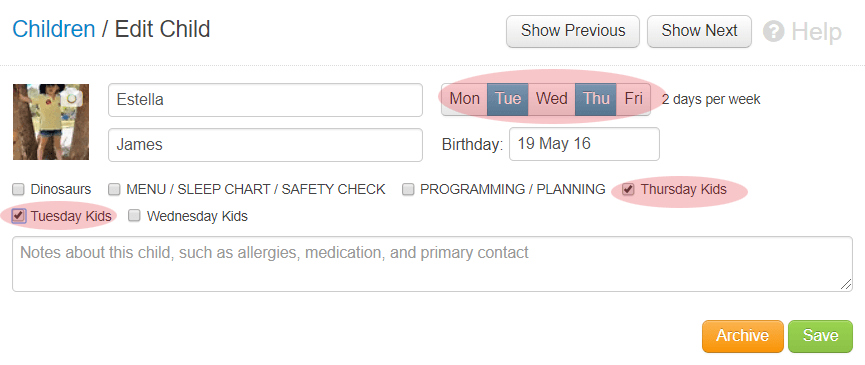 Accessing Daily Activity Charts
Accessing your Daily Activity Charts is simple. You're looking for the knife and fork icon. When logged into the web version of Kinderloop, you'll find it in the top right corner. And if you're using the app, it's in the menu along the bottom.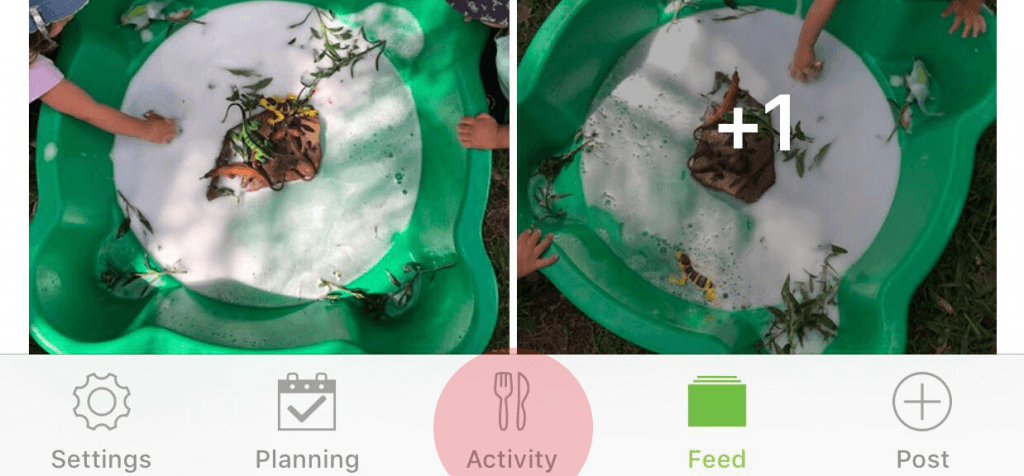 When you select the knife and fork icon, Kinderloop will show a list of all charts created. These are the charts that have previously been created, and are ready to use immediately. Simply fill out the sections applicable within the chart, and hit "save" to create a daily chart for that day.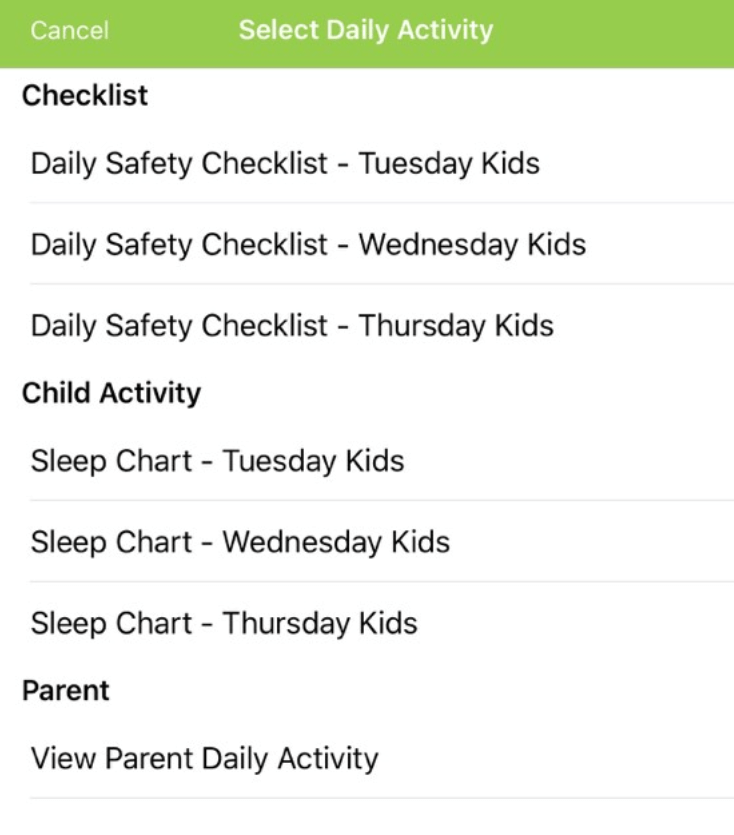 Accessing Historic Activity Charts
Once you have completed and saved an activity chart, Kinderloop will record and store in for you. It can forever be accessed from the web login, by clicking the settings cog, and then "Activity" from the menu down the left-hand side. You'll then see a list of all available activity charts – first select the calendar icon (highlighted pink below) next to the applicable chart.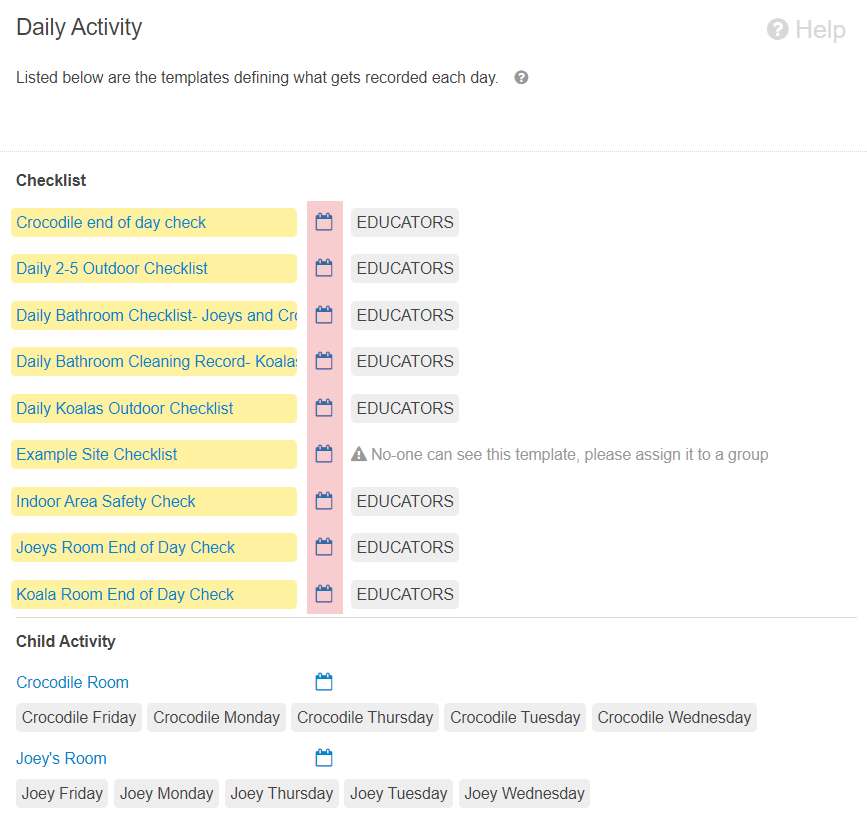 Once you've selected the calendar icon for the chart you'd like to view, you'll be guided to a monthly calendar. A green dot on any given day denotes a chart has been created for that day. You can view it by clicking the day with the green dot.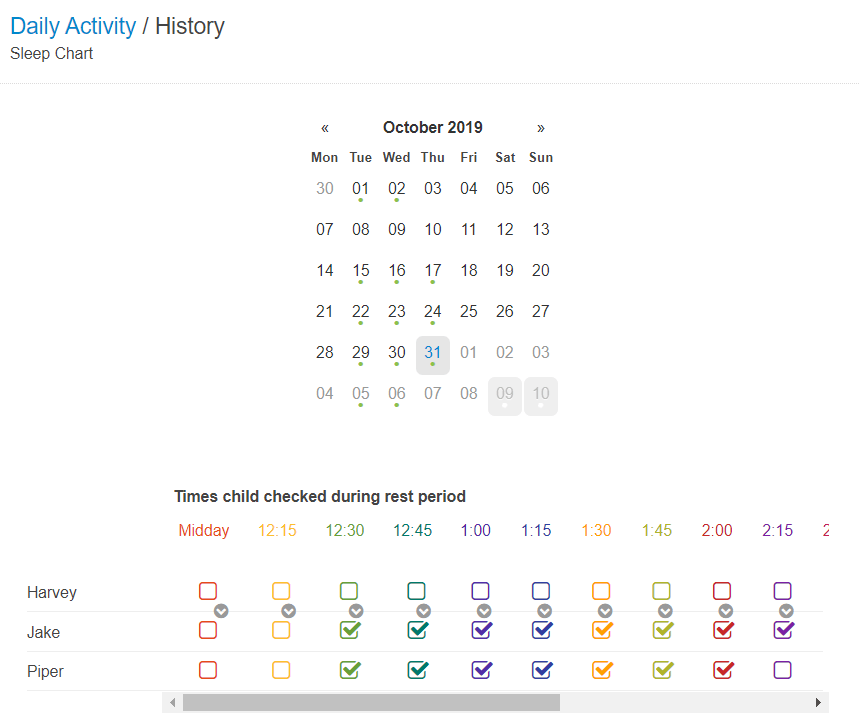 Daily Routine Video
Be sure to watch our Daily Routines video if you'd like a quick overview of our activity charts. And remember, we're always available for questions and assistance!
https://vimeo.com/234797040
Follow along on our social pages to ensure you don't miss out on all of the Kinderloop tips & hints, and learn about our new features!
Facebook
Instagram