Medication requests are HERE! Families requiring one-off OR on-going administration of medication for their child, can make a request via their private Kinderloop.
Administering medication to children in a childcare setting is a task that requires meticulous record keeping. Kinderloop's medication feature can support your service to maintain ongoing compliance of regulation 92 of the National Law and National Regulations
The Education and Care Services National Regulations, outline the requirements for recording the administration of medication here: https://legislation.nsw.gov.au/view/whole/html/inforce/current/sl-2011-0653#sec.92.
Many early childhood education and care services not only require prescription medication to be recorded but also non prescription medication, such as sunscreen & nappy creams. This can often mean some services acquire a HUGE amount of paperwork, which will need to be kept secure for many years. Kinderloop provides a safe, secure and easy way to store medication records that can be found with the touch of a button.
---
How to use the Medication Request feature (Educators)
1/ To get started using the medication request feature, head to your settings area and select 'enable medication'.
2/ Secondly, ask a linked family member to send you a request via their Kinderloop.
3/ A medication request 'notification' will pop up in your Kinderloop until an admin acknowledges it and completes the request.

4/ Once the medication request has been acknowledged, it will wait in the 'medication' area (found in your settings)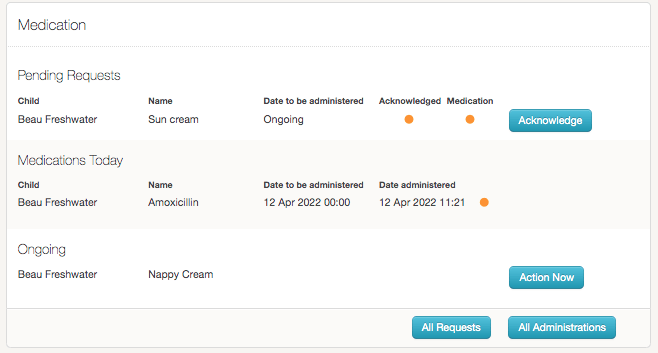 The medication landing page gives an admin an overview of any pending, actionable or ongoing medication requests. Here you can also view historical medication requests (handy for record keeping).
Pending Requests – are requests sent by linked primary family members that are yet to be acknowledged by an admin
Medications Today – are medications which are due to be administered today. Admins can select the 'action now' button to administer the medication
Ongoing – are requests for administering on-going medication
5/ Reminder alert!! Admins will receive a handy 'reminder pop up' when a medication is due. Once the medication is administered, the pre-filled request can be finalised. Kinderloop then sends a notification to linked families* giving them peace of mind that their child has received their medication.
6/ Finally, a linked family member then acknowledges and confirms that their child has received medication. This record is then stored securely in your Kinderloop indefinitely & can be accessed if and when it is required.
*If families have opted in to receive real time medication notifications
How to use the Medication Request feature (Parents/Caregivers)
1/ In the app version parents can select the 'post' button > new medication request OR on the web version, parents can select the 'more' button > medication requests.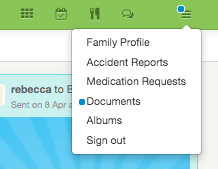 2/ Parents complete the simple guided medication request and select 'submit request'!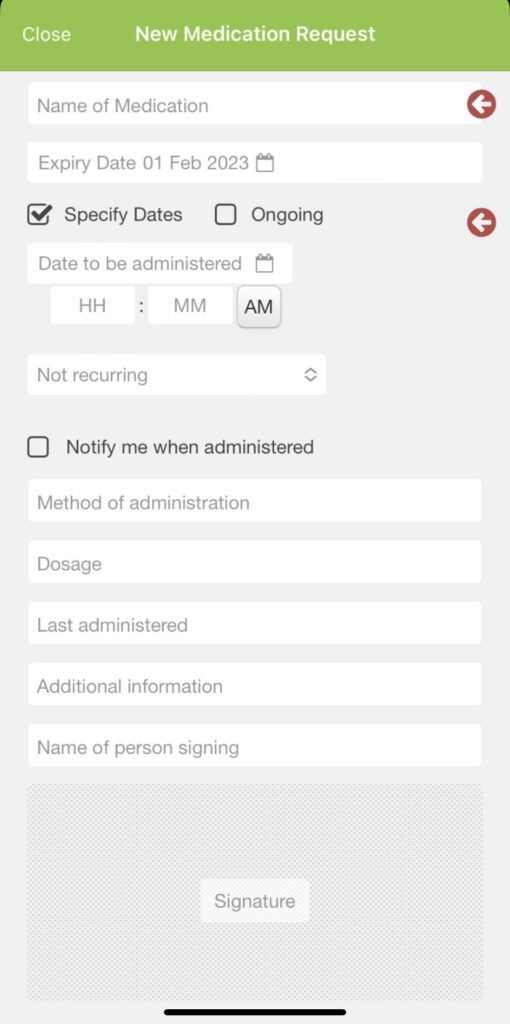 3/ Once an educator has administered the medication, a parent will receive a notification, allowing parents to acknowledge and finalise the record.
4/ Parents can view all medication requests and administered medications from their 'more' area in Kinderloop.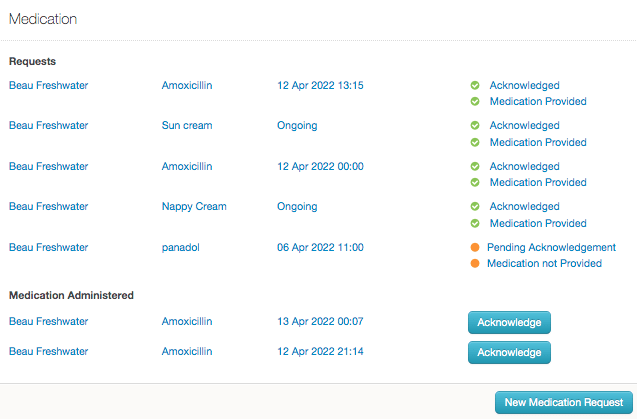 Keep your records safe and secure with Kinderloop.
Happy Kinderlooping!
Follow along on our social pages to ensure you don't miss out on all of the Kinderloop tips & hints, and learn about our new features!
Facebook
Instagram
Feature photo taken from: Photo by Amina Filkins: https://www.pexels.com/photo/crop-black-girl-playing-doctors-game-and-writing-in-notebook-5561183/