Kinderloop was created to make the life of Educators across the globe simpler. We understand that Educator's have many responsibilities… it's no small task educating the future generations! Occasionally the paperwork can be overwhelming and that's where we come in… our purpose is to lessen the load. Allowing Educators to stay on top of documentation, and spend more time enjoying the children. From daily updates to individual observations. Our goal is for the Kinderloop app to remain beautifully simple, while ensuring the extra features that perhaps aren't used every day (like creating a safety checklist or an accident report) are accessible from the web login.

We are constantly striving to improve Kinderloop, and new features are added regularly, so we understand that a little assistance may be required from time to time. Some of these features include:
Documenting and observations
Linking to your chosen educational framework (EYLF, EYFS, etc)
Images AND Video
Custom resource creation
Planning
QIP
Accident & Illness Reports
Duplicating Posts
Family posts & engagement
Custom Checklists (sleeping, safety, children, etc!)
If there's anything on this list that you're unfamiliar with, we encourage you to explore… and remember, help is always on hand… let us show you how!
Help Centre
When you login to the web version of Kinderloop, there's a small green rectangle on the left-hand-side of the screen called
"Help/Feedback". This is our Help Centre and it's here to guide and assist you. Along with communicating Kinderloop's latest updates and providing a
"Getting Started" guide, the Help Centre menu provides a number of options for assistance, and below is a guide to break it down.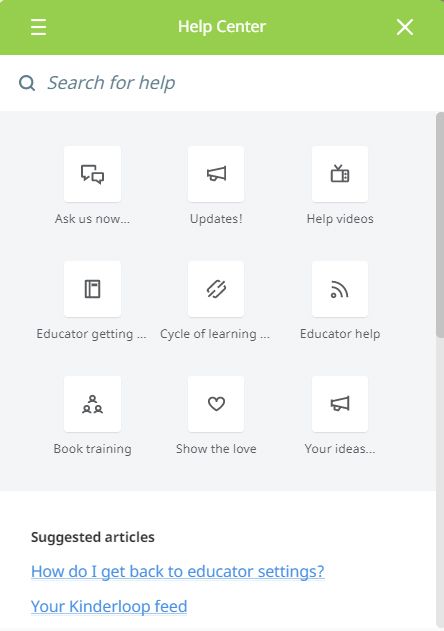 Help Videos
Kinderloop has a Vimeo Channel full of quick videos (I'm talking minutes!) that cover everything from basic posting – learning stories, observations, jottings, updates, etc! – to the latest features… and boy do we have some great features!
Don't spend hours trying to work out the accident report feature – learn how to do use it in a few minutes. We know how precious Educators' time is and these how-to video's have been created with this in mind!
Click here for access to Kinderloop's Vimeo Channel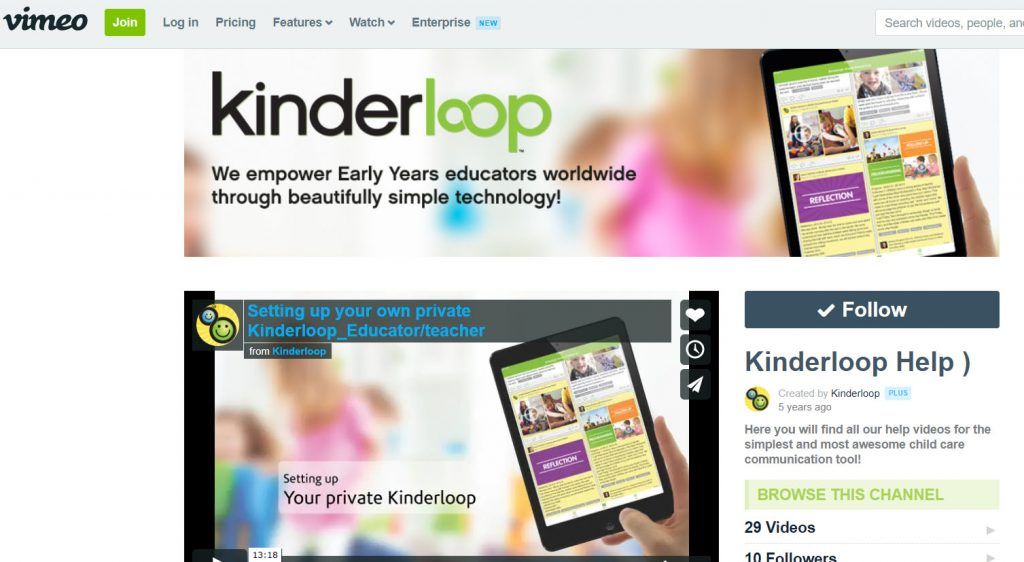 Ask us Now
"Ask Us Now" is our live chat feature. Where you get real help, from a real person, in real time. We strive to provide efficient, timely,
customer service. Sometimes you just want to speak to an actual human! We get that, and we encourage you to come and chat!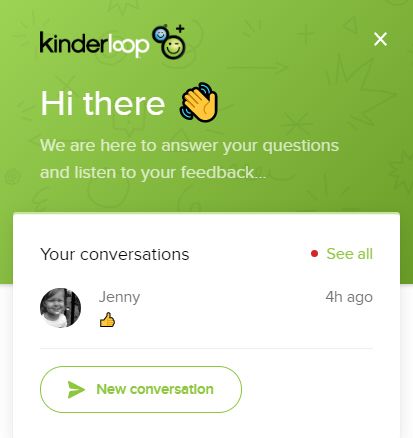 Your Ideas
Got an idea for an incredible addition to Kinderloop? Within the Help Centre there's a section especially for this purpose called "Your Ideas". We love feedback! Send through your ideas and suggestions and we'll do our best to include them. We aim to continuously inprove Kinderloop based on the feedback of the Educators that use it.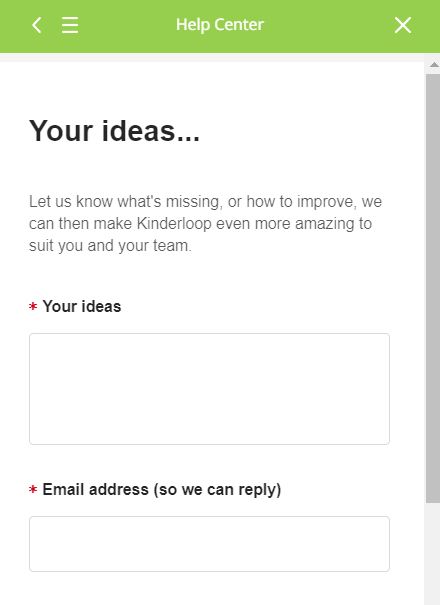 Book Training
If you're still struggling after all of the above, you have the option to schedule some training. One of our team members will
lock in a time that suits, and go over using Kinderloop step-by-step with you. We believe our software is beautifully simple, but if you are struggling, we want to help! We definitely don't want you struggling in silence! Book a training session and we'll do our best to show you the Kinderloop we know and love!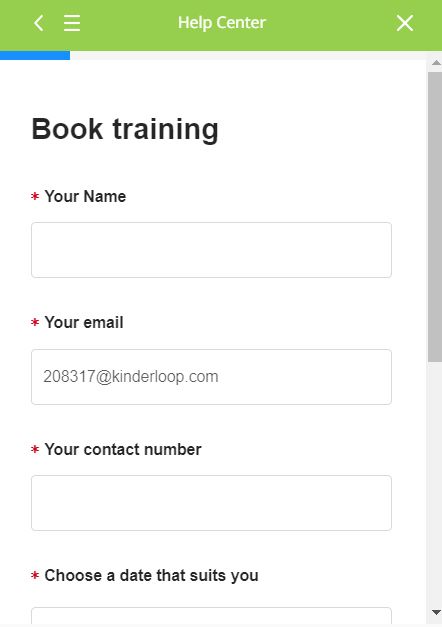 Be Social!
Come and follow along with our social pages for regular hints, tips and snapshots of Kinderloop. We aim to keep you updated when a new feature launches, or inspired when you see how other Educators use Kinderloop!
Facebook
Instagram