Kinderloop now offers the ability to create surveys. They're a great way to get a response from either your linked family or educators – depending on which audience you're targeting.

In a nutshell, they work like this… you create the survey, then a post is sent to each person which contains a link to the survey. As the creator of the survey, you, and any other administrators, will have access to the responses once published.
Creating a Survey
Surveys are created in the web browser – www.kinderloop.com – but once published they can be accessed from the app. Start by logging in to web browser. Go to the settings cog in the top-right of the page. From here, you'll gain access to the vertical menu, running down the left side of the page. Select "Surveys" from this menu.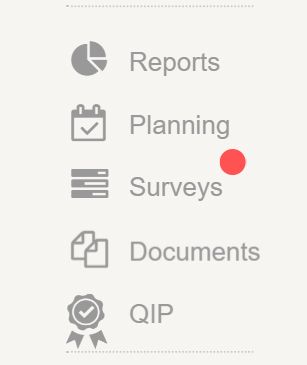 Similar to a wizard, the steps laid out in the survey will guide you effortlessly through naming your survey, choosing recipients, then building and publishing your survey.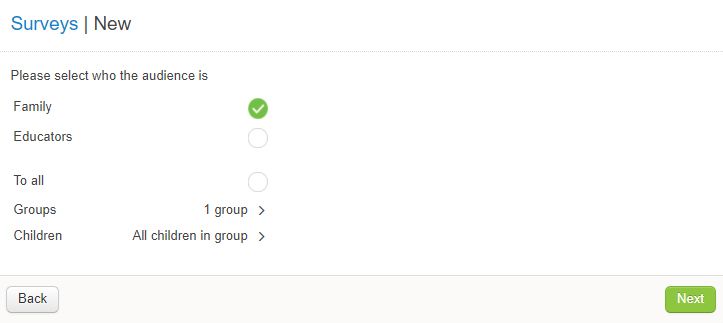 Choose from different options to create the perfect survey for your purpose, whether that be free-text fields or multiple-choice. Take a moment to decide which would work best.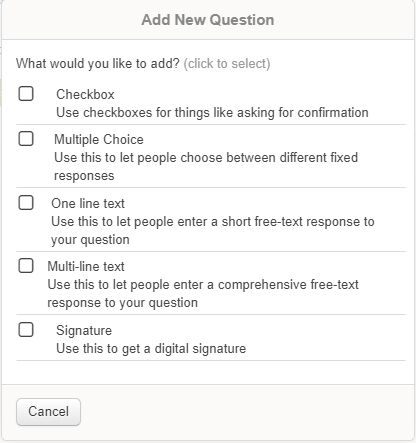 Include a Resource
Resources are a gem within Kinderloop! A colourful gem, used as an alternative to an image and can be worded in any way you wish!
Usually, to access a resource, you firstly need to create it elsewhere (via Kinderloop's web browser > Settings > Image Pack), but as a convenient bonus, a quick-cut to resources has been built directly into the surveys feature! Create a relevant resource, then add it directly into your survey!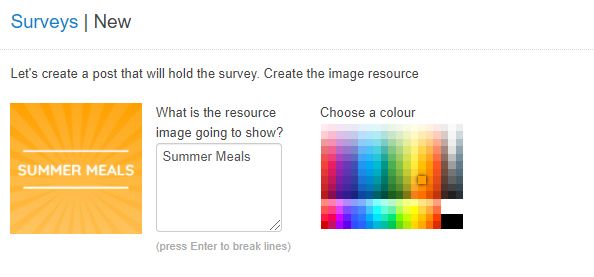 Digital Signatures
One choice when creating a survey is to opt to collect signatures. When opened on a smart device, a finger can then sign within the space provided. This – like many features within Kinderloop – can be used in any number of ways. There's no one right way. Here are two suggestions for using the signature feature in surveys for both families and educators.
Families – signatures can be collected easily from families. In the below example, the signature is for permission to attend an excursion (this use would depend entirely on your service's policies & procedures, but is an example of one way to utilise the feature).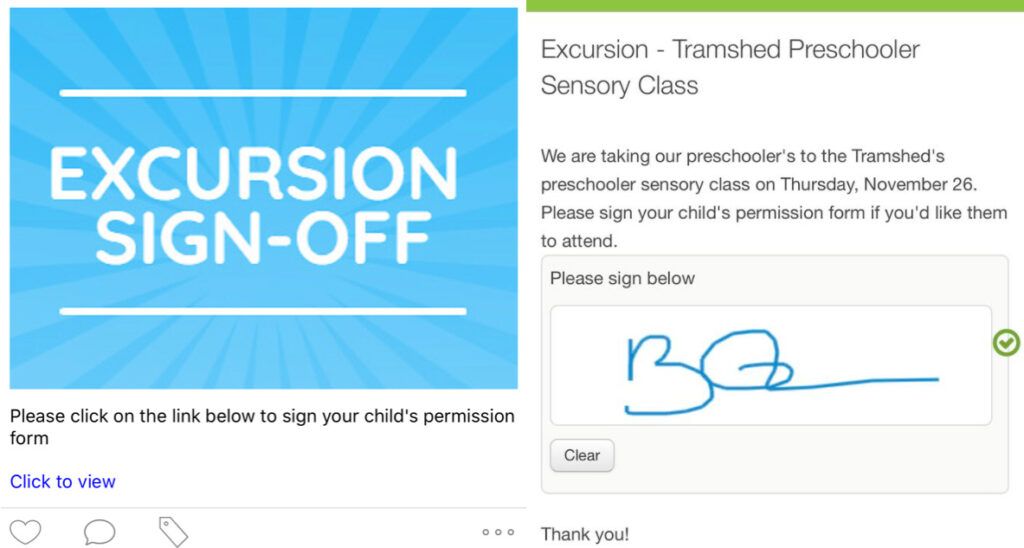 Educators – surveys can be sent directly to educators (note that they appear as pink educator posts on the feed, not accessible to families) and signatures collected for a multitude of purposes. In the below example, the signature confirms the educator has read the latest staff newsletter. This could instead be confirmation that a new OH&S, national quality standards or EYLF update has been read and understood.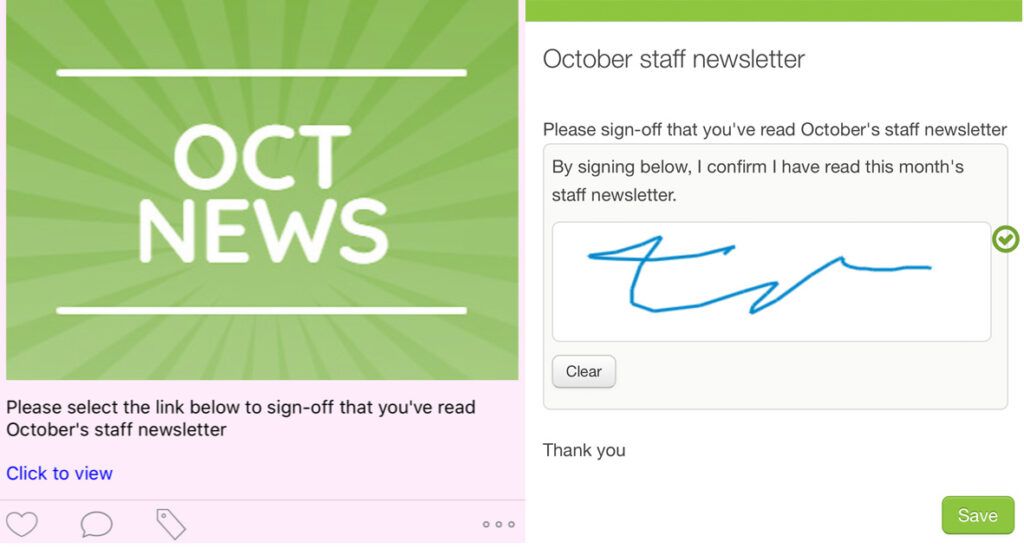 Surveys in the Kinderloop App
While surveys are created via Kinderloop.com, once published, they appear in the Kinderloop feed (both app and browser), and can easily be viewed and completed via the app.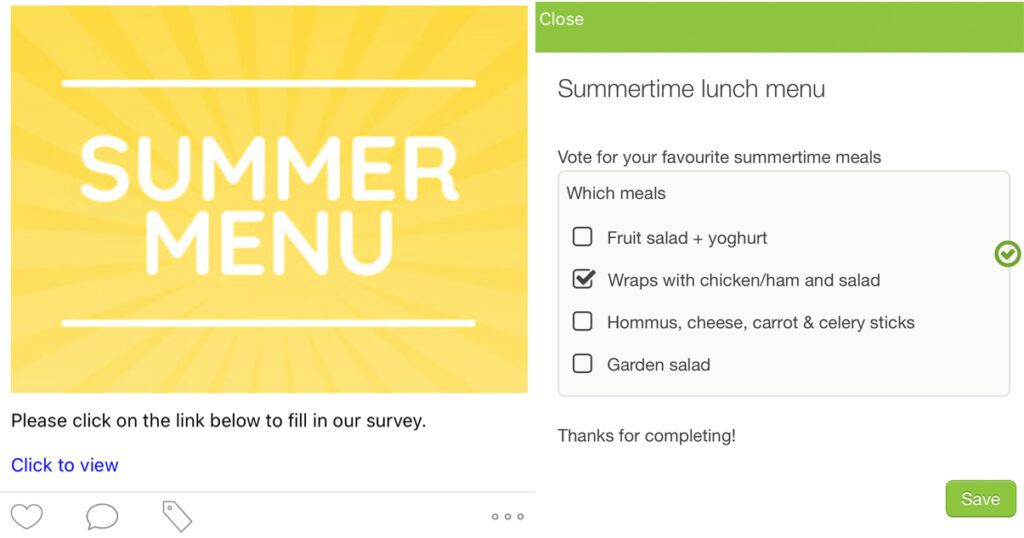 How do I see my survey results?
To view the results of a completed survey, simply login to your main settings via www.kinderloop.com and click on settings > surveys, then select the survey name and the results can be viewed as people complete them.
Kinderloop's intention is that this survey feature will open up a whole new realm of possibilities for your service! From information gathering to feedback and signature collection. As always, we're open to your thoughts.
Happy Kinderlooping!

Follow along on our social pages to ensure you don't miss out on all of the Kinderloop tips & hints, and learn about our new features!
Facebook
Instagram