Each year since 1945, the Children's Book Council of Australia (CBCA) has celebrated the coming together of children and books across one special week. During book week, schools, early childhood education services and libraries acknowledge and appreciate the authors and illustrators of some of the most loved books of the past year and of the years preceding that.
This year, Book Week will take place from August 21st – August 27th with the theme being "Old Worlds, New Worlds, Other Worlds" – quite appropriate considering this new world we have all found ourselves immersed in over the past 18 months!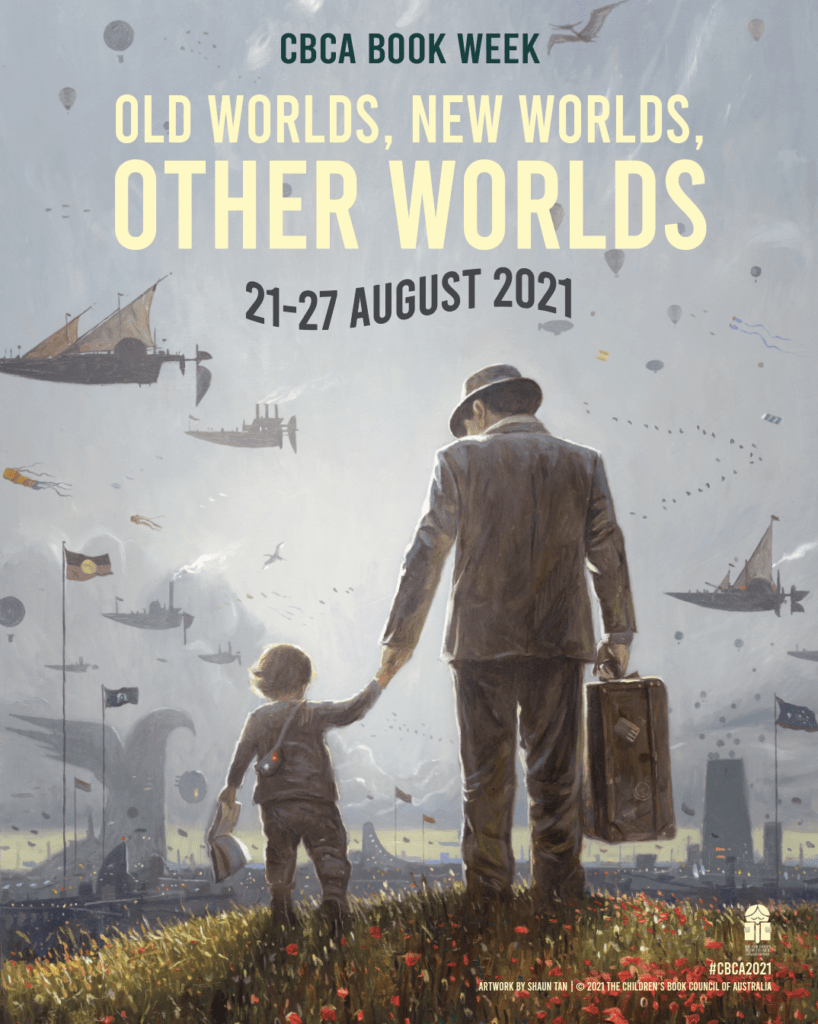 How will your service celebrate Book Week 2021?
During book week, services across the country implement various experiences to celebrate their love of books. One of the most popular and creative book week events is dressing up as your favourite book character – a quick google search will provide all the inspiration for this one!
Here are some easy ways that your service can celebrate Book Week this year:
Create a cosy book corner where the children can relax and enjoy reading books both by themselves and with their educators and friends.
Invite families to share with the children their favourite childhood books or to join their children in reading a book at drop off or pick up.
As mentioned above, educators and children love to dress up as their favourite book characters!
Get crafty! Create bookmarks, character masks or even finger puppets which can then be used to act out a puppet show.
Explore the CBCA's shortlisted books and vote for your favourites.
Create small world play experiences depicting favourite children's books. Take a look at the following creative setups for some inspiration:
Kinderloop's Top 5 Books 2021
Each year, the CBCA holds their annual Book of the Year Awards. You can find this year's shortlisted books here: https://www.cbca.org.au/shortlist-2021
Here at Kinderloop, we have scoured the bookshelves for our very own Book of the Year contenders. Check out our top 5 contenders:
'Fatima's Great Outdoors' ~ Ambreen Tariq
Fatima Khazi is excited for the weekend. Her family is headed to a local state park for their first camping trip! The school week might not have gone as planned, but outdoors, Fatima can achieve anything. She sets up a tent with her father, builds a fire with her mother, and survives an eight-legged mutant spider (a daddy longlegs with an impressive shadow) with her sister. At the end of an adventurous day, the family snuggles inside one big tent, serenaded by the sounds of the forest. The thought of leaving the magic of the outdoors tugs at Fatima's heart, but her sister reminds her that they can keep the memory alive through stories–and they can always daydream about what their next camping trip will look like.
Ambreen Tariq's picture book debut, with cheerful illustrations by Stevie Lewis, is a rollicking family adventure, a love letter to the outdoors, and a reminder that public land belongs to all of us.
'This Small Blue Dot' ~ Zeno Sworder
With a strong message of hope, interconnectedness, and empowerment, This Small Blue Dot features a little girl explaining the world to her baby sister. She hits on small wonders, big lessons, and everything in between, from sharing the joy of silly dances to contemplating the nature of this "small blue dot" we all live on.
Rich pencil and crayon illustrations conjure up memories of childhood in this celebration of who we are, where we come from, and where our dreams may take us. In This Small Blue Dot, Sworder captures not only life lessons but also the fun, often strange experience of being a member of the human family on planet Earth.
'Hello World' ~ Kelly Corrigan
From New York Times bestselling author Kelly Corrigan comes a book that celebrates the people in our lives and the meaningful connections we make that come from asking each other questions.
Hello World! is the perfect reminder that the journeys we take through life are all about the people we will meet along the way–people who will make us smarter, stronger, and more amazing than we ever thought possible. With her trademark inspirational wisdom, Kelly Corrigan writes the perfect book for anyone about to embark on a new adventure.
'Main Abija My Grandad' ~ Karen Rogers
A tribute to a much-loved grandfather, celebrating First Nations Australian culture, country and the circle of life. Told in Kriol and English.
'This book has the memories I had of my grandfather from when I was small until he left us. He taught me many things about culture and country. I'm happy to pass this story on to my family and to put it in this book.'
With luscious artwork and a lyrical text in Kriol and English, celebrated Ngukurr artist Karen Rogers evokes the world of her childhood in a remote part of the Northern Territory. Her story is a beautiful celebration of a special relationship, showing how culture is passed on from generation to generation.
'Outside, Inside' ~ Leuyen Pham
Outside, Inside is a moving picture book celebrating essential workers and the community coming together to face the challenges of the global COVID-19 pandemic.
"Something strange happened on an unremarkable day just before the season changed.
Everybody who was outside . . .
. . . went inside.
Outside, it was quieter, wilder, and different. Inside, we laughed, we cried, and we grew.
We remembered to protect the ones we love and love the ones who protect us.
While the world changed outside, we became stronger on the inside and believed that someday soon spring would come again"
Which one sounds like it could be a favourite in your service?
So, what exactly are the benefits of reading books with children?
At Kinderloop HQ, we love to read but more importantly we love to read with our children. Whilst this quiet time tends to form an important part of most daily routines, how exactly are we contributing to children's development when we read to them and why is reading so important?
Read on to discover the benefits of reading with children…
Exposing children to books improves their early reading skills.
Children that are exposed to an array of words from a young age can often have a far more extensive vocabulary and a better understanding of how words should be used in various contexts.
Early reading helps children get to know sounds, words and language, developing their early literacy skills.
Research has shown that children whose parents read to them when they are young learn to speak, read and write more easily.
Reading to children helps develop their imagination.
It also helps children gain/develop concentration, ability to focus and listening skills.
Quite importantly, reading helps children gain an understanding of the world around them, different cultures, events and emotions.
Have you noticed how the children in your care respond to reading? Perhaps they ask questions to gain a better understanding of the storyline or maybe they offer alternative scenarios for certain characters in the book.
Using Kinderloop to make the most of Book Week and beyond…
Particularly throughout the pandemic, early childhood services have taken full advantage of the technology at their fingertips to keep in contact with children and their families.
Let's explore some of the ways in which your service can use Kinderloop to share the love of books and maintain connections with your children and their families:
Record a video of educators reading some of the children's favourite books using the 'long video' option in the Kinderloop Plus app
Ask your families to share and take a picture (via the Kinderloop Plus app) of any special books or cultural stories that they enjoy at home together (this might be a good one for grandparents)
Create a post to share with families about the books you are reading at your service
Create a post with links to stories or audio online
Act out your favorite stories and make a video, sharing via Kinderloop
To find out more about Book Week 2021, check out https://www.cbca.org.au/cbca-book-week
Happy Kinderlooping!
Follow along on our social pages to ensure you don't miss out on all of the Kinderloop tips & hints, and learn about our new features!