At the start of the new year, many educators are welcoming new children into their classroom environment. You may have read our handy blog – Helping children and families settle into a new environment, offering some tips to ease the uncertainties accompanied by these big transitions. 
But it is not just the children that are challenged at the start of the year. Educators can also feel a little (or perhaps a lot) overwhelmed at the beginning of the year. There is a huge amount of pressure on educators to ensure that their environments are welcoming and thoughtfully planned, all the relevant information about each child and family is collected and organised appropriately, daily checklists and records are ready to go, and so on. This is all before educators have even had the chance to welcome each child into their classroom. And let's be honest, educators are not in the early years profession because they enjoy paperwork, it is the relationships with children that drive their passion for the job.
Cue Kinderloop…
Here are some of our top tips to utilise your Kinderloop, to start your year off organised. So you can concentrate on building those key relationships with children & families
Firstly and very importantly, update your app (if you haven't already)
Most apps require users to regularly check for updates. Some people have automatic updates on their devices, whilst others will need to do this manually in their app store. 
Why is this important?
Bug fixes. App developers want to ensure your app works on 100s of different device types.
New features which improve the usability of the app
System updates. Apps are dependent on the system they are using (e.g. your phone/device) if your phone updates its operating system, your apps may need to update as well.
Security patches. Apps need to update to ensure you are using the most secure version
Click the links below to update your device:
Send a 'Welcome' post out to your new families
Create a resource tile in your settings area (Settings > Resource > New Resource) then send a post out welcoming all your new families. You can also use this as an opportunity to remind them of the important things they might need to take note of (signing in/out correctly, bringing a water bottle, packing extra clothing etc.)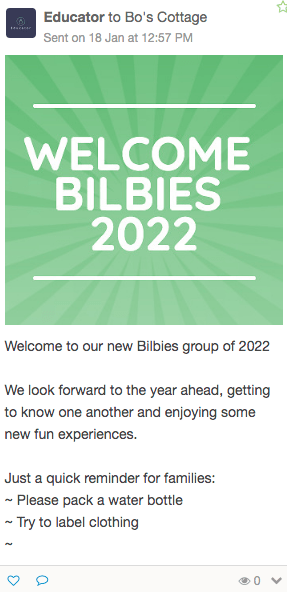 Create a 'This is us' post and 'STAR' it to the top of your feed
'Star' a post with photos and names of each of the educators in your group. Families love to know who will be educating and caring for their children throughout the day. You can write a little blurb about each educator and the days they usually work.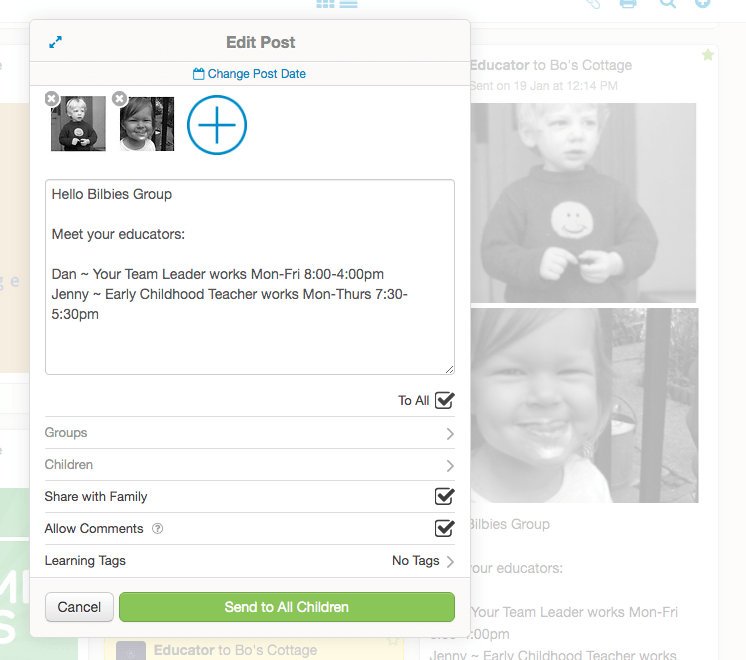 Add new children to Kinderloop or update an existing child's profile ~
This is also a great opportunity to check all details are filled in and up-to-date. Especially amending any days that each child attends, as this will seamlessly link to your daily activity charts and menus.
Settings > Add child
2. Settings > Children > Select child > Check all details are correct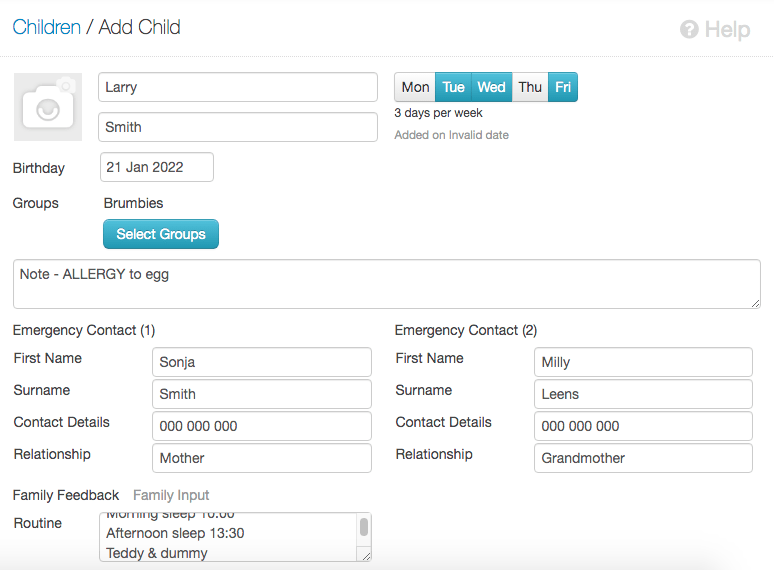 Add children to your group
Move existing children from their old groups to your group:
Settings > Children > Select child > Select Group (this is also a great time to check all details are up-to-date)
Adding new children to your group:
Settings > Groups > Add child > Select the child(ren) you want to add
Create and send out an 'All About Me' survey
Using Kinderloop's survey function, you might like to send families a questionnaire to gain insight into their child's life. You could include their interests, abilities, likes and dislikes, routine information, and any other questions that will assist in getting to know the children as they enter their new environments.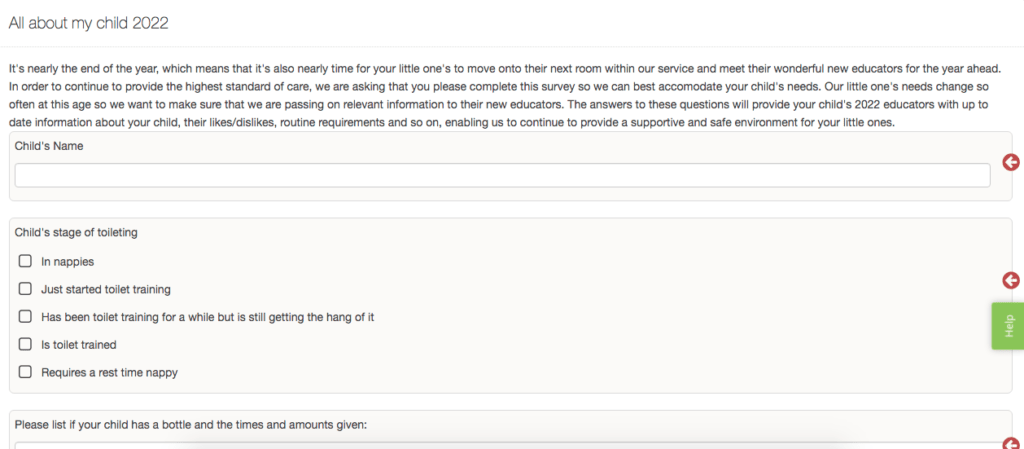 Create a 'Goal Setting' report
This Kinderloop feature is a wonderful addition to work collaboratively with each child's family in order to set some realistic goals to work toward during the year.
Kinderloop's reporting area can help you achieve this…
Simply create a new report in your reporting area > name it Goal Setting > select the heading for goals you would like > opt for families to edit the information (so they can be part of the process from their own Kinderloop) > save > then complete your goals!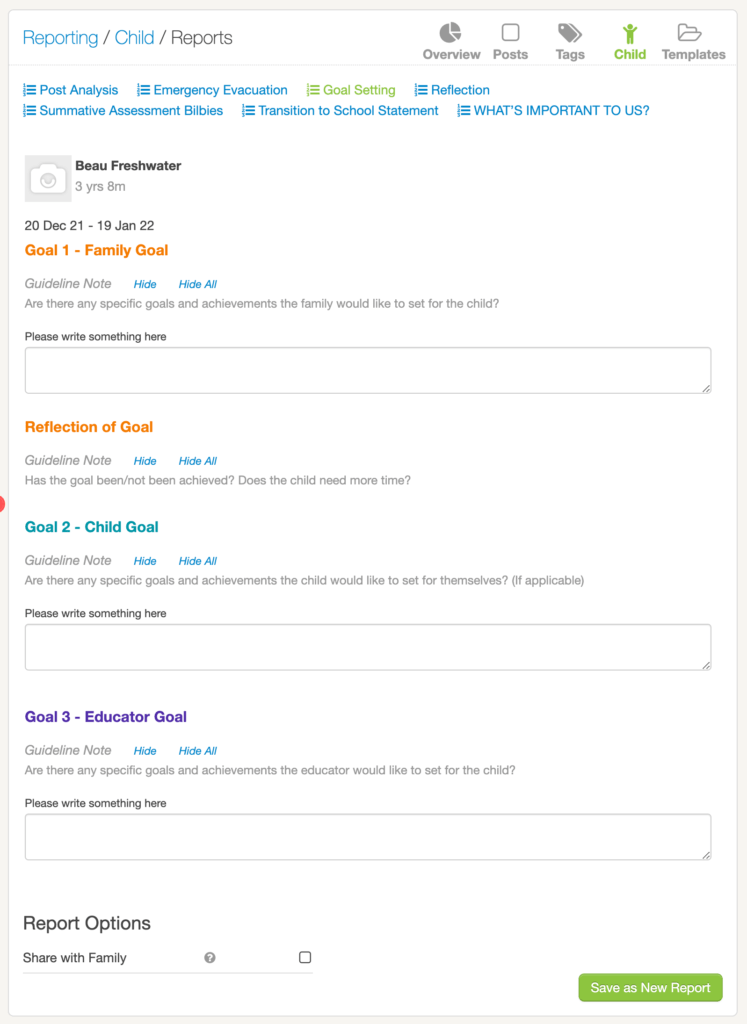 Create a rotating Menu
Use your Kinderloop to share your weekly menu with families, saving time! Using this feature also supports Regulation 80 of the National Law and Regulations, which states that services that provide food and beverages must:
~ Have the weekly menu displayed and accessible to parents and carers of children being educated and cared for by the service (regulation 80)
~ Ensure that the weekly menu accurately describes the food and beverages to be provided by the service each day (regulation 80)
We have made a handy video to get you started, check it out here: https://vimeo.com/344932453
To get started, firstly, switch the menu option on in your settings > build your menu(s) in your daily activity area > add your menus into a schedule (so they rotate for you) > switch the option on to share menus with families, located in your daily activity sheet(s)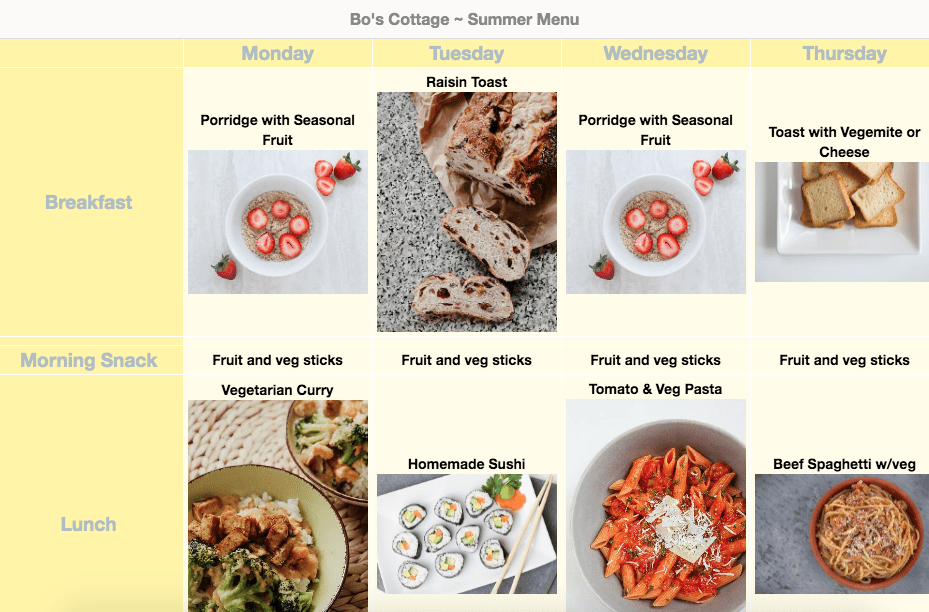 Create and set up your Daily Activity charts
All activity chart templates have been designed – as with most things in Kinderloop – with flexibility in mind. We are aware that each service will utilise a chart slightly differently, so a simple fill-out-the-boxes and drag-and-drop method has been designed for you to create the bespoke chart you need. They can be altered and edited as often as you wish. You can start from scratch or use one of our templates to get you started. There are three template types:
1/ Children: for charts that document such things as eating and sleep routines. You choose whether to combine them into one daily chart, or separate each chart, depending on the individual needs of your service.
2/ Staff: For anything that involves staff specifically, like staff sign-in, or staff compliance, like updating first aid & CPR. (Children cannot be linked).
3/ General: For everything else. The daily morning checklist, the evening checklist, the cleaning checklist, etc, etc! (Children cannot be linked)
To get started log onto your Kinderloop via the web, head to Settings > Daily activity charts > Create new checklist (or select existing chart to edit)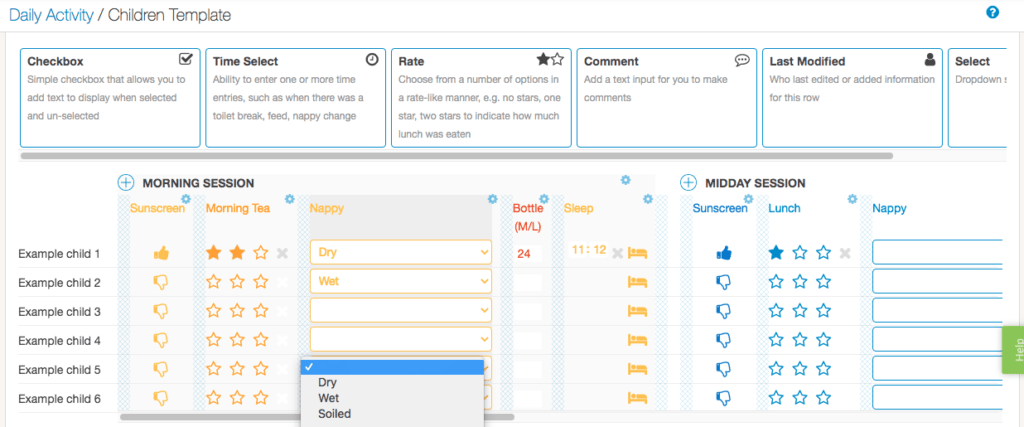 Ensure your Incident & Medication forms are ready to go ~
With Kinderloops smart Accident and Medication feature, you can easily move all of your paperwork online. Incident forms can be completed in accordance with the national regulations* and sent to parents for them to view and acknowledge with a digital signature via the Kinderloop Plus app.
To customise your forms go to Settings> Accident & Incident reports > Create new (or select existing template). These forms will be ready to use, via the Kinderloop Plus app or web login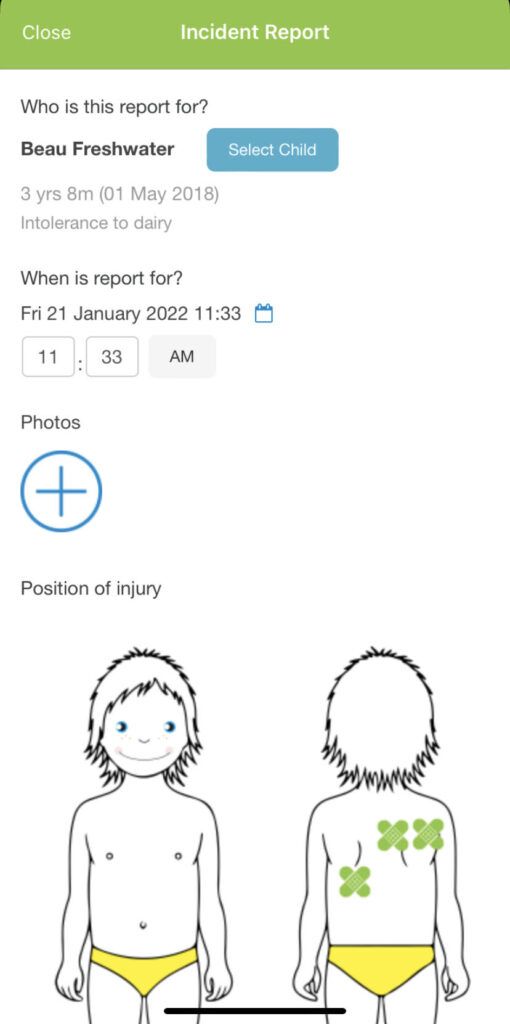 *ensure any changes you make to the template adhere to the most recent regulations found here https://legislation.nsw.gov.au/view/html/inforce/current/sl-2011-0653#sec.87
Update or upload any new policies or procedures ~
You can stay organised by keeping all of your policies and procedures on your Kinderloop. This allows families and educators to view them when they need it. Ensure when you amend a policy or procedure, you also upload the new document to Kinderloop.
Families will receive a notification that you have uploaded a new document. They can check this in their documents area in their Kinderloop Plus app
To upload policies and procedures go to Settings > documents > upload new document. You can also place these into a folder, keeping all of your documents organised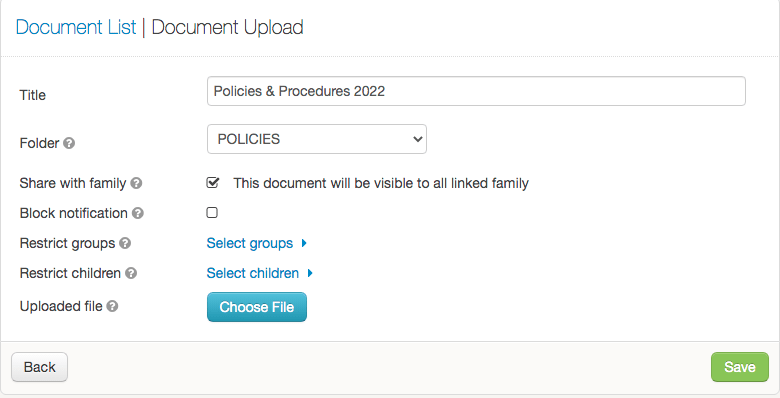 Lastly, set yourself up for success later in the year by using your tag feature 
Ensure you use the pre-loaded tags and create your own. Not only is this a great tool for your own personal use when searching for something, filling out your QIP or generating reports (like summative assessments) but it's also great for Assessment and Rating. If an assessor requests to see evidence on a certain ACECQA area, EYLF, NQS, observation etc, you're able to locate relevant posts by searching the tags you've used!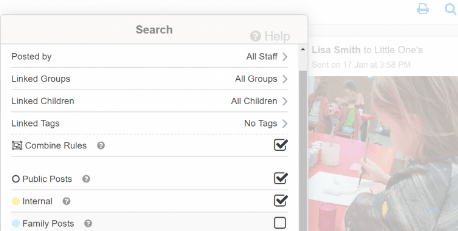 If you need help getting set up for the year, give one of our friendly team a shout! We are always more than happy to help
Happy Kinderlooping!
Follow along on our social pages to ensure you don't miss out on all of the Kinderloop tips & hints, and learn about our new features!
Facebook
Instagram