Kinderloop has long held a vision. We see a future of collaborative ideas shared between our much-loved Educators. No matter where they are in this wide world. Irrelevant of the role they play within the Early Learning sector. Educators can work together to drive passion, ignite inspiration and wildly encourage each other… through the simple sharing of ideas, activities and experiences. In this blog post, we will:
Explain the inspiration behind Community Walls
Showcase some Community Wall ideas
Provide a quick step-by-step guide on how to get started
Anyone that has ever worked with little people knows that there are many ways to educate. So many learning areas and outcomes, different directions to take within a day. You'll also know that it can be easy to suffocate under daily routines and documentation. Sometimes you lose your mojo a little. In our experience, it's other Educators who can help re-ignite you. Help re-kindle your focus.
Cue Community Walls.
Kinderloop's big vision was Community Walls. We put our heads together to provide you with the perfect place to achieve all of the above and more: a freeform planning area where educators can create, share and learn from each other… using the incredible community of Educators.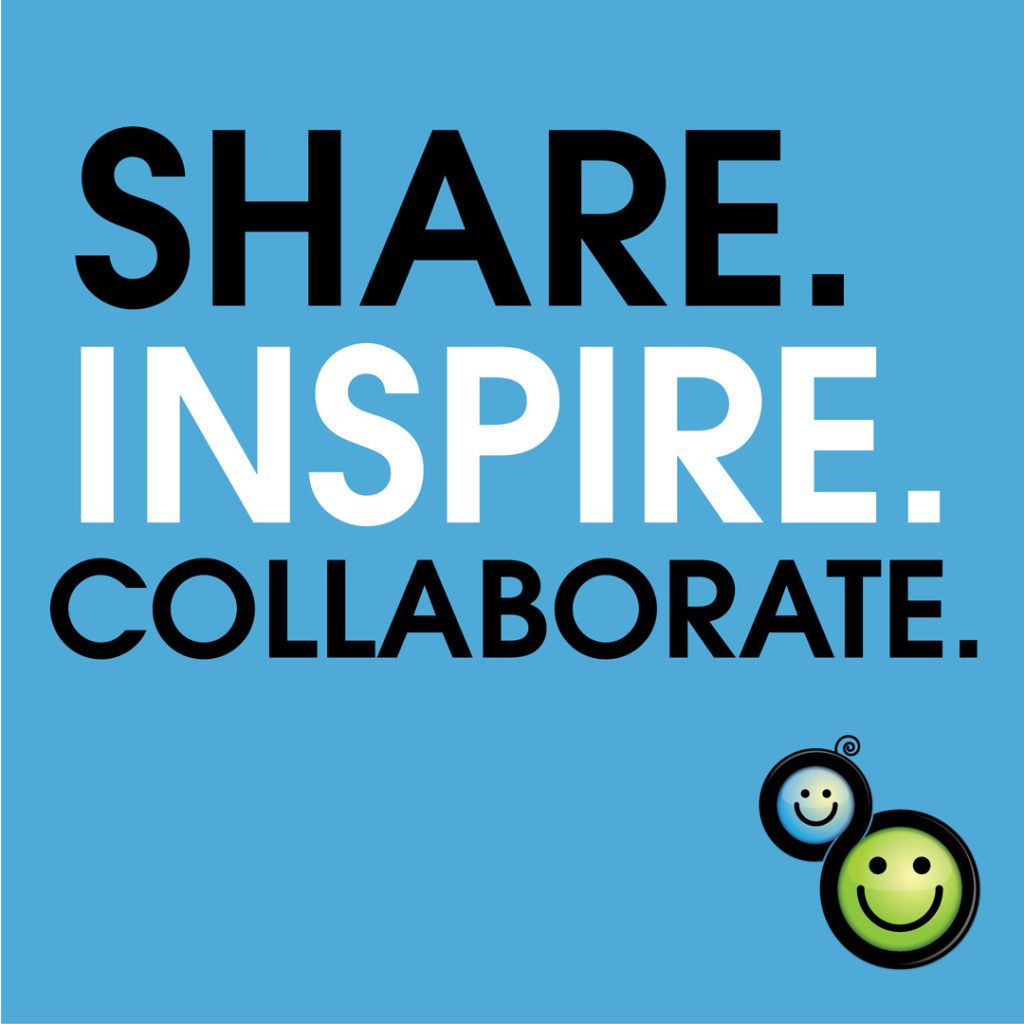 Community Walls work like this…
Educators create a wall and share posts (containing images, videos & descriptions) of their educational experiences and activities. Other Educators extend on those experiences – perhaps taking them in slightly different directions – then post their results back on the wall for the benefit of others, and to gain valuable feedback.
Ideas are formed. Relationships are made and strengthened. Educators are reminded of what attracted them to the early learning industry in the first place. And who benefits the most? The children of course! Little lives made all the richer by incredible experiences, and driven Educators!
Who benefits the most? The children of course!
Here's a favourite example of incredible Educator collaboration, and how we see Community Walls complementing it…
Melon Numeracy
While stumbling around online, searching for a fun early-numeracy activity, I stumbled across an Educator called Paula, based in Canada. Her melon numeracy activity seemed like soooo much fun…. here's what it looked like: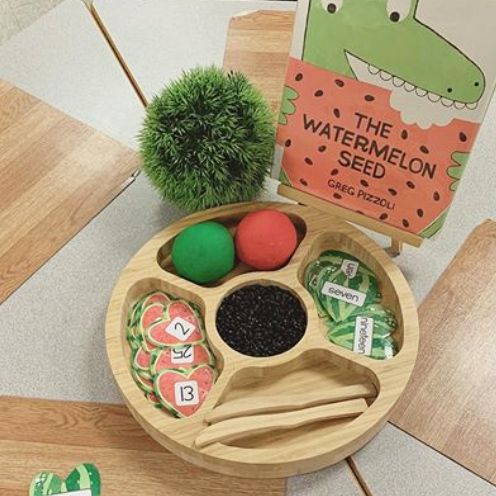 I created my own version of the melon numeracy activity, here in Australia, and kept Paula in the loop on how my experience turned out. My version is below (and yes, it was soooo much fun!):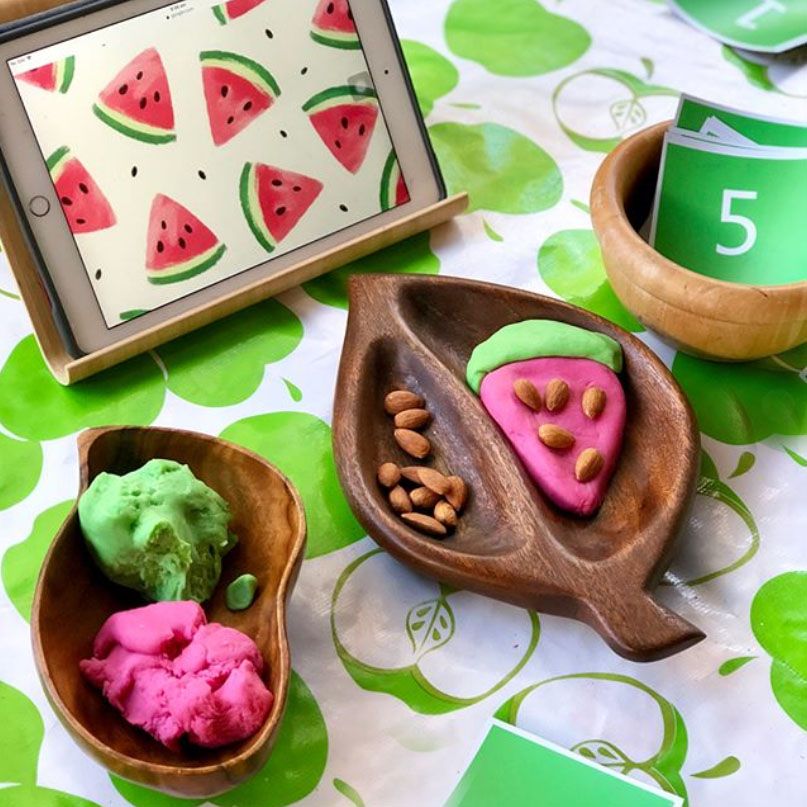 Paula then took elements of my set-up, and incorporated them into her next experience. A very cool sensory rice activity with seeds scattered throughout for counting! She also kept me in the loop – incredible collaboration that inspired us both, even though we were on opposite sides of the world!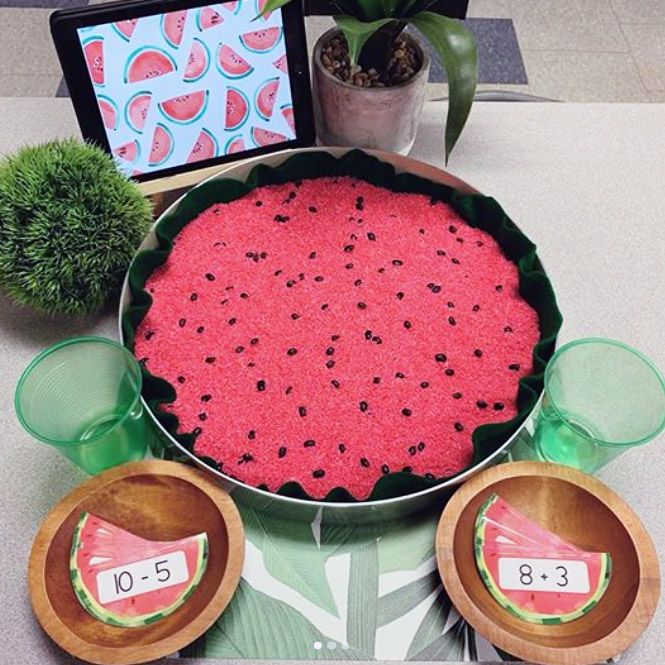 What this whole experience made clear for us at Kinderloop, was that Educators…
1. Enjoy sharing ideas for activities and experiences.
2. Inspire each other when they share ideas.
3. Can sometimes use a little motivation to bring their ideas to fruition.
4. Collaborate well, and become better Educators when they do!
A Community Wall could complement the melon numeracy scenerio in a number of ways, with many directions available to take the experience (some tongs for fine motor; a few jugs to pour and tip rice with, serve melon slices for morning tea, etc). By inviting other Educators to collaborate on your wall, any idea could steamroll into hundreds of fun activities!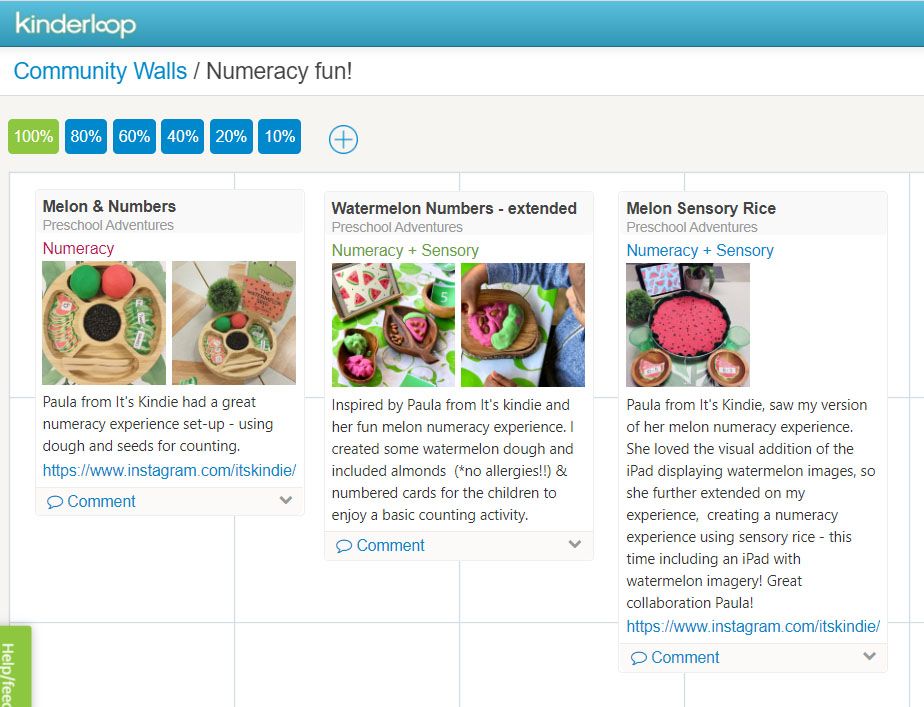 Getting Started – Creating a Wall
Look for the "world globe" icon within the horizontal bar menu in Kinderloop (you do need to be logged into the web browser – not the app). It looks like this:

Within Community Walls, choose "Create New Community Wall"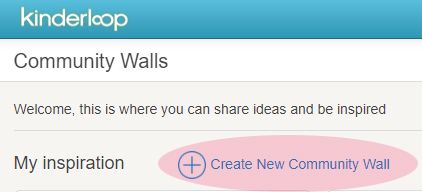 Community walls – can be any theme or topic your imagination allows
Whatever inspires you to share. Whatever you need inspiration for. Use the best resources you have (ie/ other Educators!) to enrich and develop your ideas and educational programming.
Give your wall a name, and add posts (including images and text) in the same way you would normally add a post to the Kinderloop feed – or within a planning wall.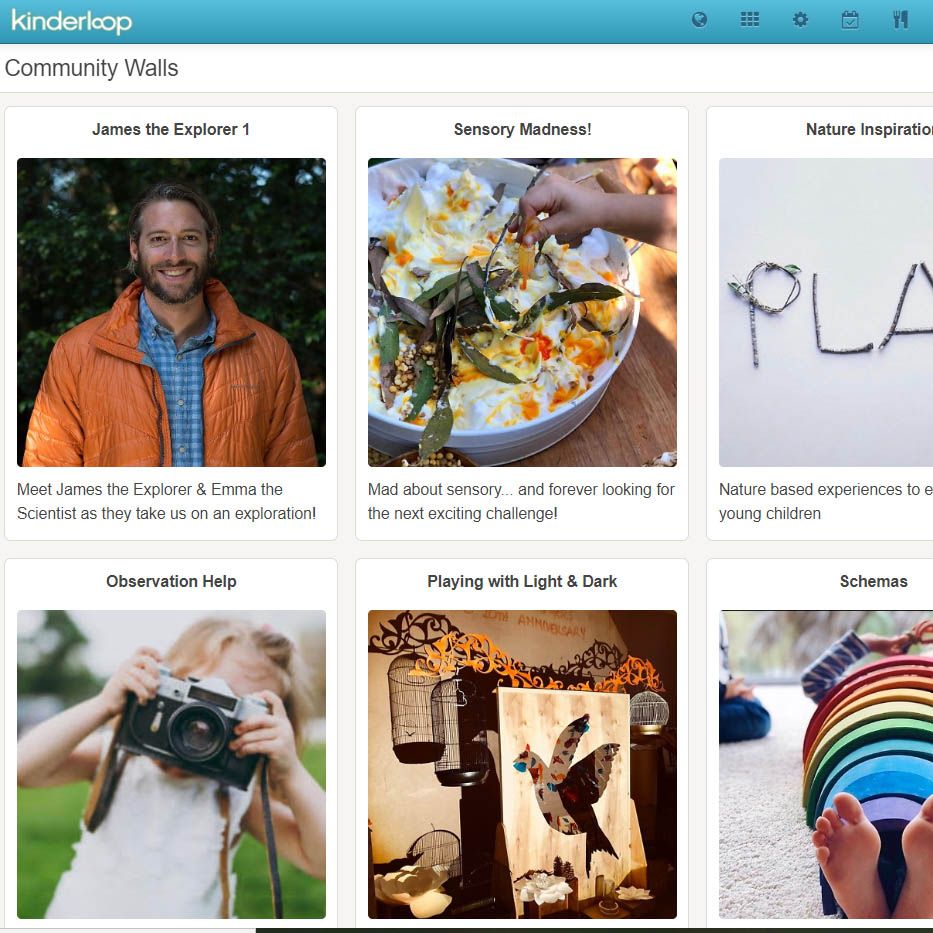 Community Walls – encourage you to invite your colleagues
Invite current colleagues. Invite old colleagues. Invite other Educators you've always admired but perhaps never actually worked with. There's no limit on who you can collaborate with.

Select the permissions you want them to have (do you want to give them the ability to invite others? Post to the wall? Comment on Posts?)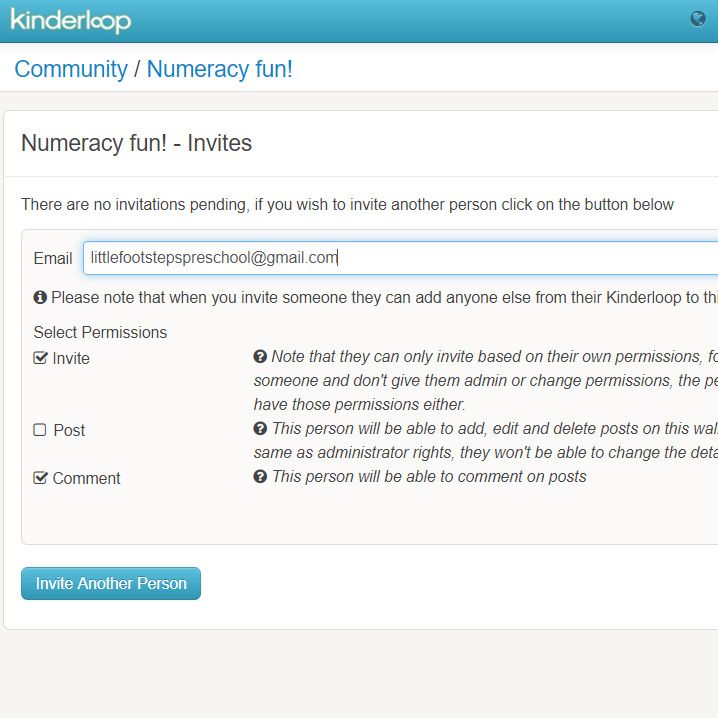 *Worth noting… to ensure maximum security is maintained… which is always a high consideration for Kinderloop…
ALL Educators are able to create community walls, including non-admin users. The one condition is that a non-admin user is not the wall 'admin' and doesn't have permission to invite people to the wall. Instead, an existing Kinderloop admin will be assigned as wall admin. This admin user will have supervisory control over who is invited to the wall.
Community Walls: a freeform planning area where educators can create, share and learn from each other.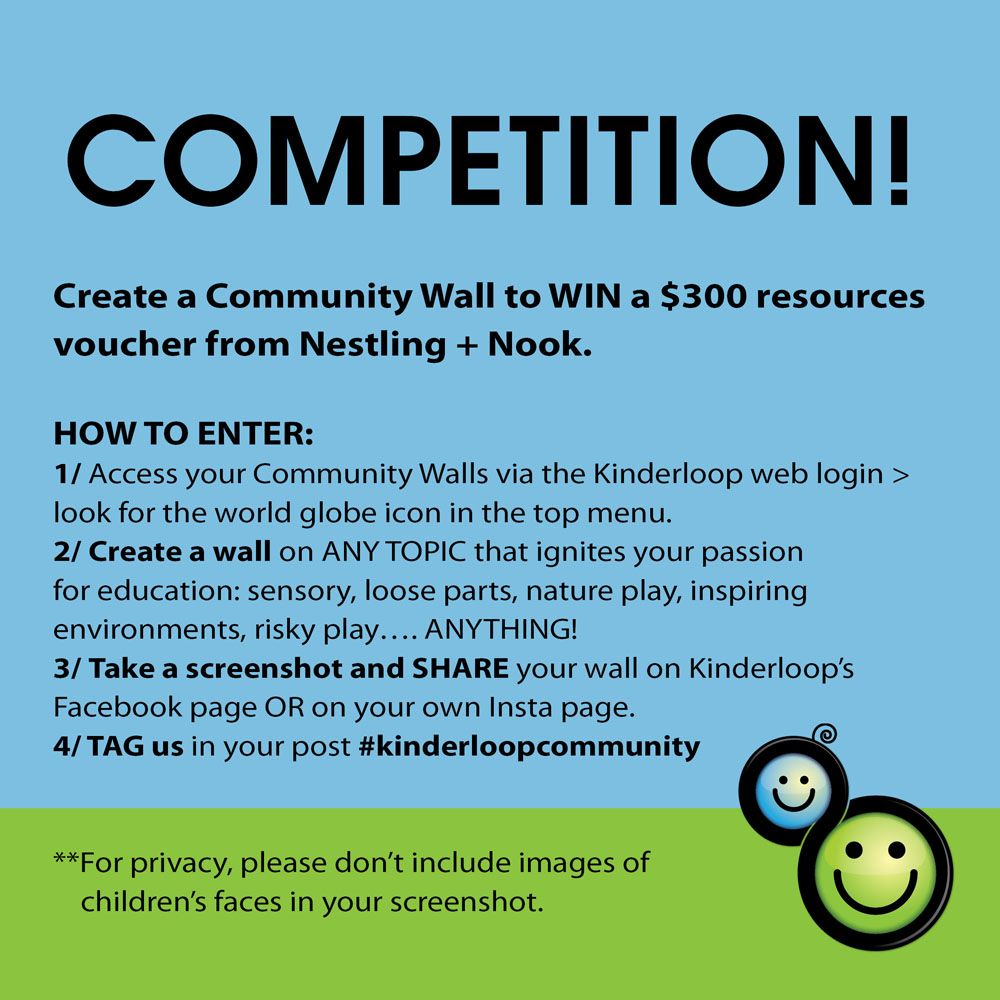 Competition entries close Friday 3 July, 2020. 

The Kinderloop team will select 5 finalists, and our Kinderloop Facebook community will vote for the winner!
Have a browse of the beautiful resources offered by Nestling + Nook to get excited!
Kinderloop's Community Walls – a place for educators to SHARE. INSPIRE. COLLABORATE.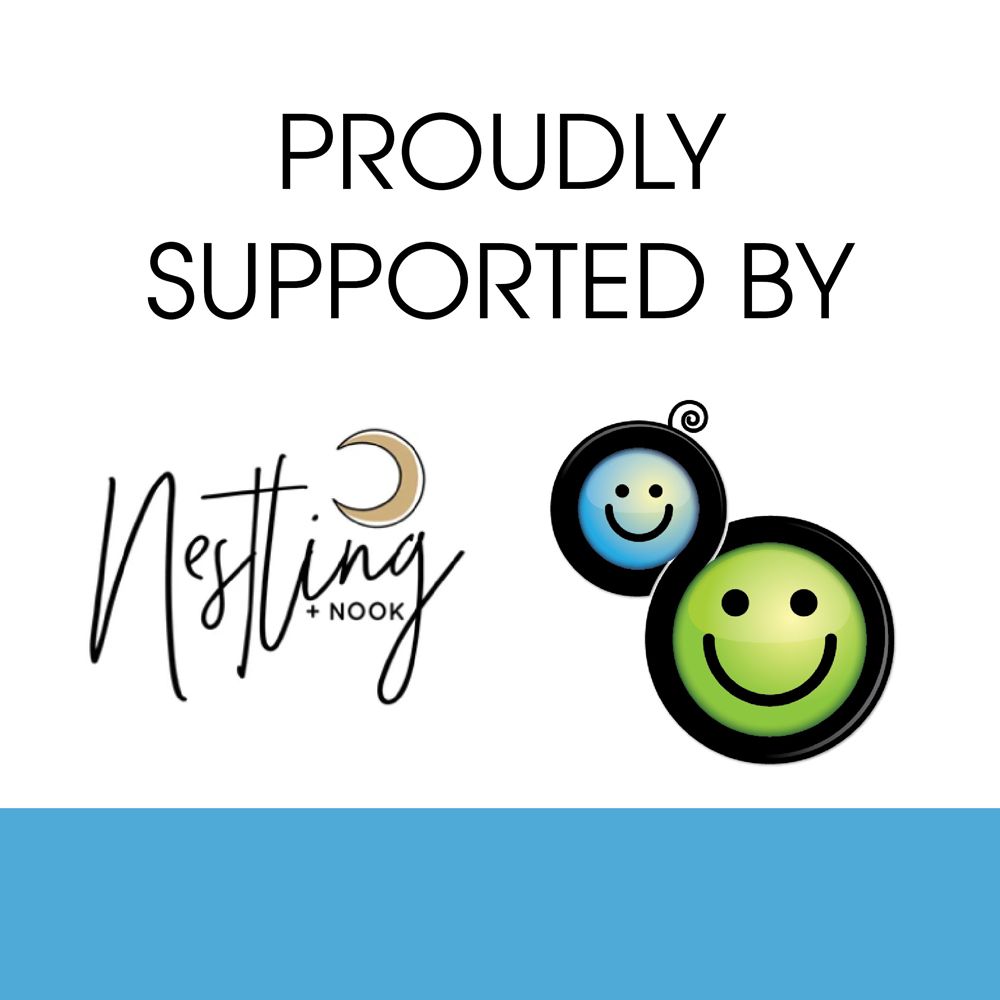 Happy Kinderlooping!
Follow along on our social pages to ensure you don't miss out on all of the Kinderloop tips & hints, and learn about our new features!
Facebook
Instagram