Over the course of this article we'll share:

Tips and suggestions from early childhood Educators on how they engage and interact with families

A variety of ways Kinderloop can help you increase family engagement each week
Each year, children move on. New families begin care, the slate is wiped clean and the topic of family engagement comes around. It's cyclical. Families are busy, there's a lot of balancing to do in modern life, and the need for regular communication and re-education on the importance of family engagement is essential. Most Educator's understand that the topic of engaging families is ongoing and cannot be re-iterated enough…. but which tactics get the most traction?
Here at Kinderloop, we've spoken to a selection of Early Childhood Educators from across the industry to try and nut out the best suggestions on improving family engagement and strengthening relationships within a service. From the feedback received, it's clear that this is industry wide – not just something that a small handful of Educators struggle with. It's also clear that there isn't one tried and tested method for success… each Educator tackles family engagement in varying ways. Here's what they've said…
Su G – Centre Director
" The age old Early Childhood question… how do we get families to engage more? We pose questions in our writing and we also ask them to send us pics of their family and what they are doing on the weekend. I think having a curriculum that is ongoing helps – long projects give families the time to get on board instead of changing all the time."
The age old Early Childhood question… how do we get families to engage more?
Rachel A – Family Daycare Educator
"I find the fundraiser's, like Woolies 'Earn & Learn' get families actively involved in the service. The gardening collectables was a huge hit too.
Usually at the start of the year I ask families to bring in family photos so we can start a family tree. A great representation of 'Belonging, being and becoming' for families, and a visual invitation to engage".
A visual invitation to engage
Melinda N – Centre Director
"My philosophy on family envolvement is to individualise your interactions with families. Families are individuals and children are individuals therefore, if you want families to interact with your service you must treat them as an individual with respect and no judgement.

All educators know each family and extended family, some of us have closer bonds than others therefore collectively we are able to communicate about each family's needs as a team. These close relationships encourage families to want to be involved in their child's service.
Our interactions with families (at ABHPS) are done via 1:1 communications with all educators and director (myself) chatting with families regarding their child/ren, what their child's day consisted of . As a working director, I have the luxury of making close bonds, not only with the children but with families too."
It's really simple….. Communication and build trust.
Rebecca S – Early Years Educator
"As an educator it's just knowing what's worked previously and repeating yourself regularly. We introduce activities such as "all about me", when a child starts care. This encourages families to send family photos in to create a sense of belonging. A photo album that children can look at on the iPad, together with their families, is another way to increase engagement".
As an educator it's just knowing what's worked previously and repeating yourself regularly.
Bronwyn B – Family Daycare Educator
"In family daycare we are priviliged to offer excursions to the children in our care. I use this as a great tool for family engagement. Families are encouraged to join us on these fun, enjoyable days outside of our routine. For example, this week we're off to Taronga zoo and at least one of my families wants to come along! I find excursions excite the families, and this in turn, promotes engagement".
A great tool for family engagement
Brooke J – Early Years Educator
"I find a good starting point is to appreciate the fact that most families are overwhelmingly busy, and often pulled in many directions. As a mum of three children myself, I know the juggling act that families are involved in each week. I use this personal experience as an advantage point – I don't feel slighted if families don't regularly engage – instead I believe in gentle encouragement. If families are reminded that we as Educators LOVE to hear from them, with feedback, comments, likes, etc, and we re-iterate that our educational programs are strengthened with their engagement, the message isn't always heard! Consistency is the key!"
Our Educational programs are strengthened with their engagement
Lisa S – Early Years Educator
"Getting family members in to share a skill with the children, and having social events at the service for families to join in. Also, taking the time to include questions or asking for feedback on a specific topic from families when we send out their children's updates and learning stories… unless we specifically ask, we find families just read and move on. Ask them to engage or they don't always know to comment".
Taking the time to include questions or asking for feedback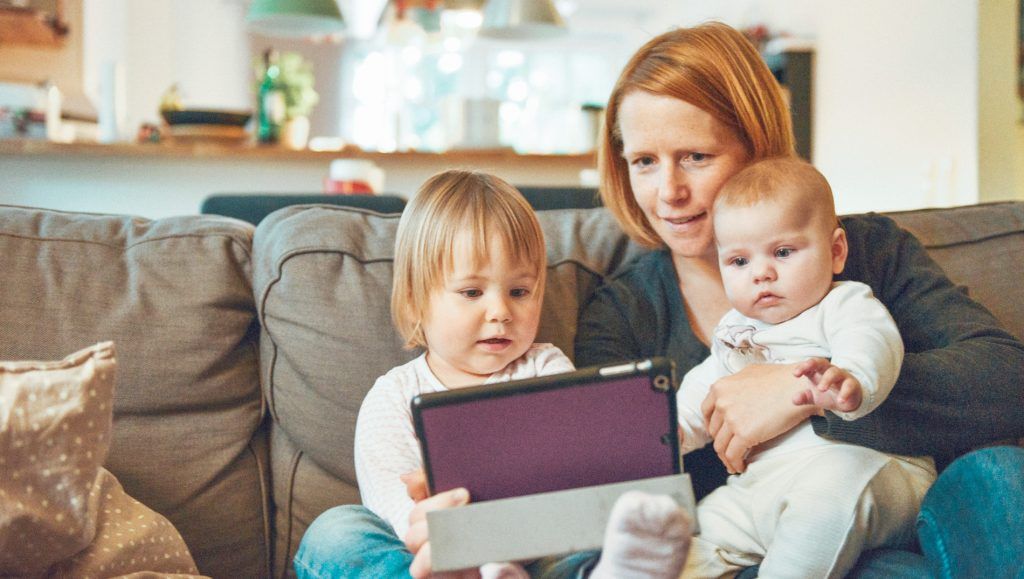 Can Kinderloop improve family engagement? Too right it can!
Within your own private Kinderloop, there are a number of way that families can engage with their child's Educator. Small things can have a great impact, so be certain you're across the different options!
Family comments
Switching on Family comments allows families to comment back on posts! It's incredibly motivating and uplifting for an Educator to receive a comment when they've put the time, effort and passion into an activity – planned or child led. Remember to encourage your families to take a moment and share their feedback.
Family comments can be switched on via:
Settings > Options > Comments on posts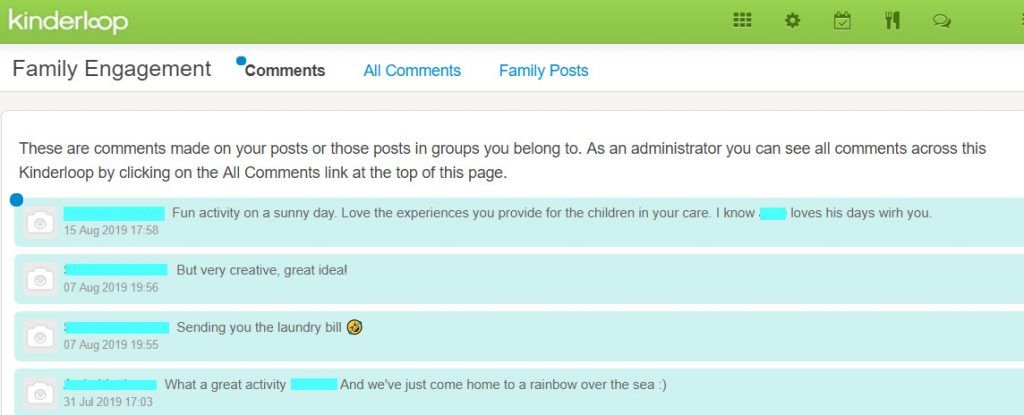 Show the love
Families can ? a post when using the Kinderloop Plus app. Located in plain view at the bottom of each post. Let your families know that this small gesture is really welcomed!
Family Posts
Anne Stonehouse is a leading consultant in ECE and has written numerous articles for Early Childhood Australia. She discusses the importance of family participation. Anne believes that what matters most is that families: feel welcomed; are respected; see themselves as members of a learning community; are empowered in their child's experience.
She also poses a good reflection question…
What is there in the physical environment that says to families 'You are welcome here, you belong here'?
When families share information about family time on weekends, siblings, hobbies, holidays, pets, favourite experiences, recipes they enjoy, etc, this is priceless for Educators! This valuable information is used to create educational programs that are relevant and personalised for individual children. A child's learning experiences are deepened and made more meaningful when they are extending on known enjoyments. Allowing children to share things they're passionate about with friends and Educators relates directly back to the concepts on Belonging, Being and Becoming.
This is where we believe Kinderloop is a hugely beneficial tool to provide services with direct access to a child's home life. Family posts (or 'Blue" posts) allow families to post directly to their child's private Kinderloop feed – sharing information, photos and video. Only your child's Educator will have access, and they can then choose how best to use this valuable information.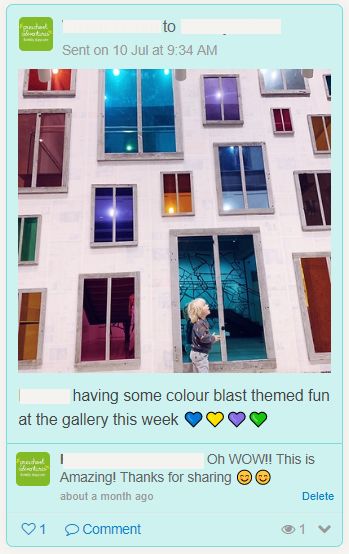 Not only can Family Posts help Educator's plan future activities that are specific to a child's current interests, but they relate directly back to the EYLF in the following ways:
Principles: Principle #1 – Respectful, reciprocal relationships
& Principle #2 – Partnerships
Practices: Practice #2 – Responsiveness to children
NQS: QA1.1.2 – Each child's interests

It's also incredibly motivating and uplifting for an Educator to receive a post from a family, so…
Educators: ensure family posts are switched on by an Admin user within Kinderloop's web browser and encourage this practice with your families.
Families: know that this feature exists in Kinderloop! Know that anything you share will be greatly welcomed! And know that with this act, you're greatly contributing to the education and growth of your children!
Family posts can be switched on via:
Settings > Options > Family posts/blue posts.
Suggestion: Friday Posts
Help prompt families by creating a post at the end of each week that asks families to share their weekend adventures with their child on Kinderloop. A small reminder may be all a busy family needs!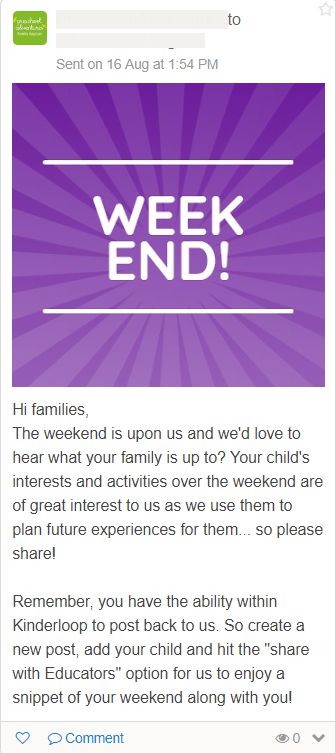 Here's a handout that might also be helpful!

Family posts can also be really useful if a family needs to get a message out to other families within the service. Two examples include: Birthday party invites, or, putting a community sports team together… but the possibilities are limitless!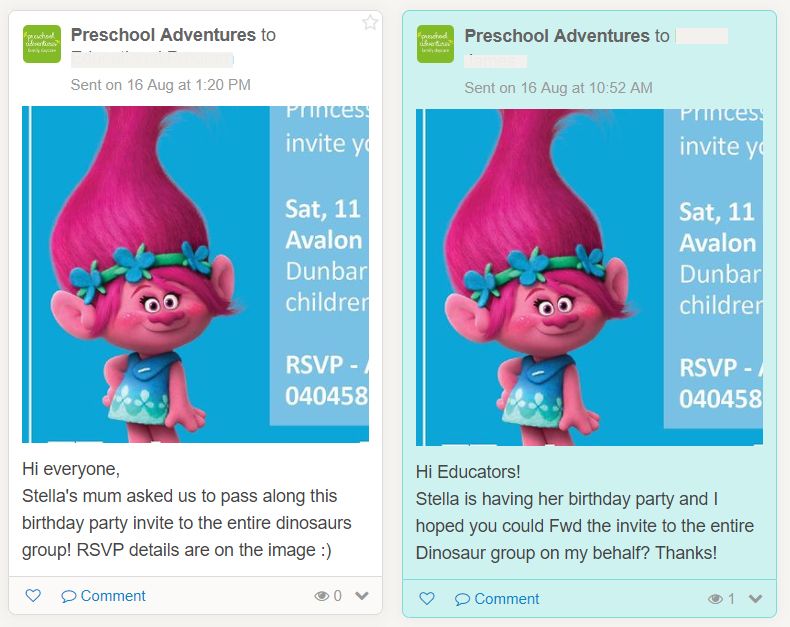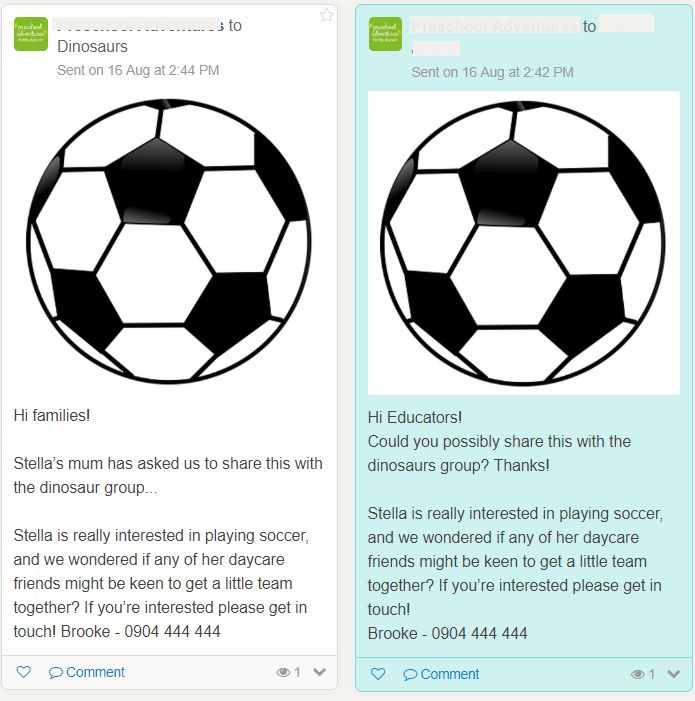 Extending on this even further…family posts can be turned into planning items. You can assign a specific date to each item, which can be viewed in the weekly view, or, add the item to a planning wall to access in the future.
Don't forget Kinderloop's fantastic Auto Create Post feature, that essentially allows reminders on planning posts!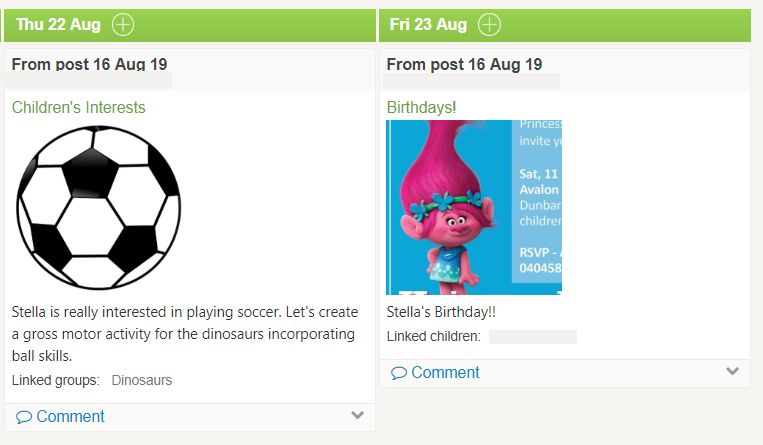 "Planning" can be accessed via the desktop computer, in the top right-hand-corner. But planning posts can be added to the planning walls from the app. Just choose "Create planning post" or choose the "Follow Up" option from an existing post.
Useful tip
Did you know… Family posts can be viewed quickly and easily on the Kinderloop Plus app, simply by swiping left!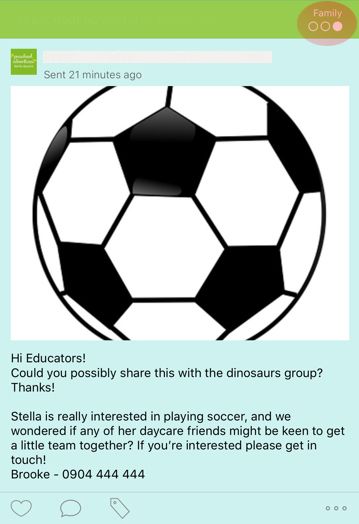 Give these hints, tips and suggestions a go and remember to let your families know they can have input into your planning cycle – and their child's educational journey – with their valued engagement. Awareness is the key!
Happy Kinderlooping!
Follow along on our social pages to ensure you don't miss out on all of the Kinderloop tips & hints, and learn about our new features!
Facebook
Instagram
Feature image from:
People photo created by freepik – www.freepik.com