Kinderloop now offers the option of creating "pink", or private, educator posts. Posts that aren't for the eyes of families, but instead offer an advanced style of messaging between educators and service management – one that can be used as evidence of teams working collaboratively, or discussions had.

Choose who views your pink posts by selecting individual staff members, or send the post to everyone at your service – it's completely up to you. Whether you're working with another team member on the educational curriculum, or, you're a centre director who has to get a message out to all staff… pink posts could be the answer you're looking for!
Below we offer a selection of different ways you might utilise educator posts, but really, they're open-ended! Let us know the way they work best for your team! We love feedback!
1/ Reminders for the team
Information is regularly provided to educators and staff in a busy service. Educator posts are great for this! Whether it's a private note to one educator, a select group of educators, or a message to all staff, the educator posts allow for this.
The below example shows a reminder that quarterly emergency evacuation drills are due, but the possibilities are unlimited – staff meetings, coordinating annual CPR renewals, requests for leave over Christmas… are all things that need to be organised and can be communicated using educator posts.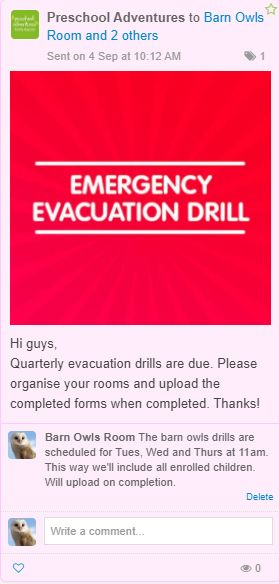 TIP – Larger services may wish to create groups of educators so that Educator posts can easily be sent only to those within a particular group. For example, all Educators in the Bunnies Room may form one group. To do this, an Admin user needs to be logged into the web version of Kinderloop. Start at "Settings" on the main menu, and then choose "Groups" from the menu down the left-hand side, followed by "New Group". Add the staff required to the group (*no children need to be added when creating a group).

2/ Providing information

Often there's a need to get information or updates out to staff or educators and pink posts allow for this. Whether it's a new nappy changing roster (like in the below example), a reminder to clear up the kitchen after use, or, requesting that all staff keep a look-out for Jack P's blue hat which went missing yesterday… we have you covered!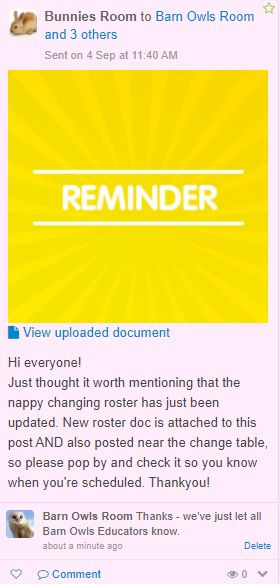 TIP – Educator posts can be text-only, or you can upload images, resources or documents – exactly the same as regular posts. Team members can also "like" a post (by selecting the love heart at the bottom) or make a comment.
3/ Planning a team activity
There are endless occasions throughout the year that require planned activities or experiences. Our below example is Halloween, but there's Harmony Day, Early Childhood Educators Day, Christmas, Easter, just to name a few! Occasionally you may need to collaborate with other educators to plan the activity, or, you might be stuck for ideas and need a little inspiration from your team. A pink post can help! Ask for suggestions, make a suggestion, or extend on ideas – work together effortlessly using educator posts!

TIP – Too many pings? While we want you to be excited about educator posts, we don't want you feeling distracted during your working day. If the notifications on posts and post comments are becoming too much, you can adjust them! From the Kinderloop web browser, select the three vertical lines in the top-right corner > choose "Educator Profile". From here you can turn notifications on or off, as best suits you.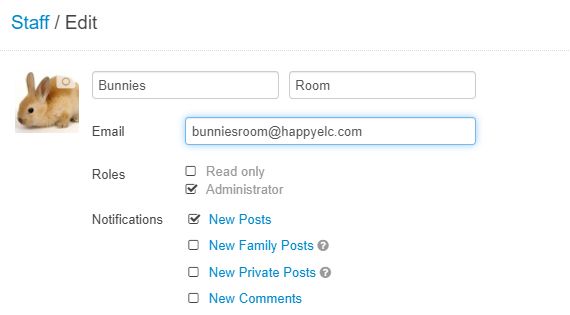 4/ Sharing ideas
Found a fantastic new online resources shop? Want to share a recipe or activity idea with your team? (see our chia slime example). Found the perfect intergalactic experience for the kids in the Black Bears room to include in their space program…? Let your passion for educating shine and post it!

TIP – Extend on this shared ideas option even further using Kinderloop's Community Walls feature. The perfect place to collaborate with team members! Read more about Community Walls here!
5/ Collaborative programming
Whether it's daily, weekly, or monthly, educators are forever trying to plan the next incredible curriculum for the children in their care. Something that will make them jump up-and-down with excitement! Educator posts help you perfect your program collaboratively. Post your ideas, ask for help, share suggestions, extend activities beyond your own square… and make your curriculum shine! Educators are always the best inspiration to other educators!

TIP – Educator posts can be searched for the same way regular posts can, using the Kinderloop search function. If you're sending a pink post that may need to be accessed at a later date, tag it using Kinderloop's learning tags. From the EYLF, to learning outcomes, or milestones, the option to tag individual posts is available and is a great way to categorise posts and make them easily searchable at a later date. Creating custom learning tags allows you to create bespoke tags that relate specifically to you and your service, eg/ "Educator collaboration" or "Activity planning" might be good options.
Creating custom learning tags is done by an admin user via the Kinderloop web login by choosing "Settings" followed by "Learning Tags" down the left-hand menu, then "Add more Tags" from within the learning tags screen. Name your new tag and hit "Save". You'll then be able to view it amongst the list of existing learning tags – and add it to an individual post by selecting "learning tags" when creating the post.
Hopefully, these ideas provide some inspiration for educator posts within Kinderloop and have you messaging your team asap!
Happy Kinderlooping!

Follow along on our social pages to ensure you don't miss out on all of the Kinderloop tips & hints, and learn about our new features!
Facebook
Instagram
**Woman photo created by KamranAydinov – www.freepik.com